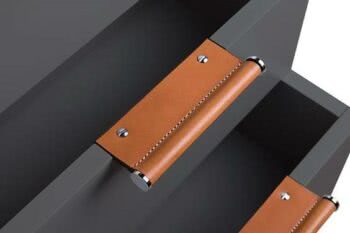 New Mockett Leather Edge Pulls Feature Exquisite Hand-Stitched Leather in Five Natural Finishes
Torrance, CA —  You've never seen edge pulls like this before! Exquisite hand-stitched leather bound over a steel rod handle that is plated in Satin Nickel. The exposed nickel end caps create a nice juxtaposition against the warm, natural tone of the leather. These pulls mount to the top of your drawer and project 2-1/16" for an ample grip surface. Simply grasp the handle and pull to open the drawer or cabinet. Available in three sizes from 3 5/8" up to 7 9/16" length with five finishes to choose from.

About Doug Mockett & Company
Founded in 1980, Doug Mockett & Company is the leader in innovative furniture components and architectural hardware, providing "Fine Architectural Hardware for Your Fine Furniture™". We strive for simplicity in design and a spareness in execution. Quality is our guarantee and our commitment to serving you is our promise. We invite you to enjoy our extended product lines in Wire Management, Power & Data Grommets, Furniture Legs, Drawer Pulls, Casters, Coat Hooks, Shelf and Work Surface Supports, Kitchen, Bath and Closet accessories, new ideas in Computer-Into-Desk Integration, and a terrific line of Multi-Purpose Support Brackets.
Visit www.mockett.com for more information and to view Mockett's collection of Fine Architectural Hardware for Your Fine Furniture™.