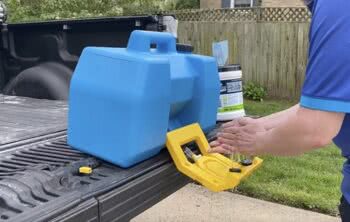 New PlumbMaster and Speakman Mobile Hand Wash Station Helps Maintain Proper Hygiene on Service Calls
A practical and efficient way to increase safety and cleanliness during service calls.
Glen Mills, PA – PlumbMaster, a premier source of quality plumbing repair and maintenance parts, and Speakman, a manufacturer of premier showerheads and plumbing products, introduce the HW-4400 gravity-operated hand wash station. It offers a timely solution to the rising concerns about safety and hygiene for plumbers, contractors and other trade professionals on service calls during the current pandemic. With the attention to cleanliness and sanitation expected to stay at heightened levels in the long term, this product is a must-have on every truck.
"Helping our partners run their businesses efficiently is one of the core principles at PPG," says Adam Horwitz, vice president of Marketing for PPG, the parent company of PlumbMaster and Speakman. "We've heard very clearly that our customers are concerned about their health and safety, and with this product, they will be able to maintain proper hygiene during and between service calls."
The Centers for Disease Control and Prevention (CDC) recommends frequent and thorough handwashing in hot or cold water to help prevent the spread of COVID-19 and other viruses and germs. Having an HW-4400 hand wash station on the truck allows service professionals to wash their hands any time before and after a job. All that is needed is the hand wash station plus their own supply of soap and a clean towel for drying.
Watch this video to see how it works.
The HW-4400 mobile hand wash station can be purchased immediately through PlumbMaster and Speakman to meet the safety needs for plumbers and service professionals deemed essential workers.
About Speakman
Based in Pennsylvania and over 150 years old, Speakman pioneered the invention of the modern shower head. Today the company is part of the Professional Plumbing Group and pursues innovation with a focus on performance and sustainability. Speakman produces a full line of well-designed, commercial-grade bath and showering products for the residential, commercial and hospitality markets, as well as safety equipment including emergency showers and eye washes for commercial use. Products are available through major plumbing wholesalers and online retailers.
About Professional Plumbing Group (PPG)
PPG and its branded subsidiaries cover all of the major professional market channels across the plumbing industry. PPG designs, manufactures, markets and distributes high-quality plumbing products and expert solutions. With Speakman, Wolverine Brass and PlumbMaster the PPG umbrella includes three national brands and a history stretching back 150 years in the plumbing industry.

About PlumbMaster
PlumbMaster is a premier source of quality plumbing repair and maintenance parts serving the plumbing, institutional, healthcare, governmental and other related industries. A part of Professional Plumbing Group (PPG), PlumbMaster is also the exclusive distributor of Wolverine Brass, offering faucets and other specialty plumbing products.