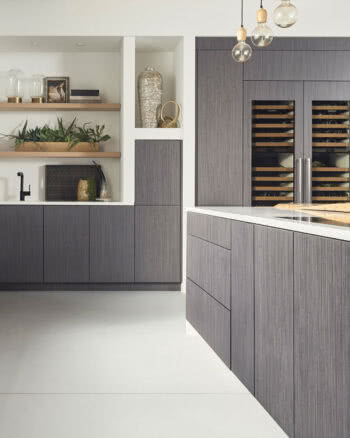 Northern Contours Introduces Eco-Friendly Clear Coat UV Finishing
St. Paul, MN – Showing off the natural beauty of real wood veneer is now easier than ever with Clear Coat UV finishing from Northern Contours. UV-cured finishing is one of the most efficient and environmentally friendly processes in use today, resulting in significant reduction or complete elimination of VOCs (volatile organic compounds). UV-cured coatings consist of two main parts: a catalyst that initiates the curing process when exposed to ultraviolet light, and resins that cure very hard and are solvent and scratch resistant. Northern Contours has invested in this cutting-edge technology to help you deliver in-demand, ready to install wood veneer doors, accessories, and surfacing materials.
Details on Clear Coat UV Finishing from Northern Contours:
UV-cured clear coat finish at a 20-degree sheen level.
Available for all Standard, Exotic & Reconstituted wood veneer species
Available for all Spectrum slab profiles, new! floating shelves, CTS panels, PSA, overlays, frame doors, and decorative moulding.
36″ max for one dimension (width or length), second dimension up to 96″.
Additional 15-day lead time for finished product.
About Northern Contours
Northern Contours is a 3D Laminate component manufacturer with over 25 years of industry experience. We serve a variety of customers on a custom and volume basis in Kitchen & Bath, Home Organization, and Commercial Furniture markets. Our manufacturing expertise resides in membrane pressing, miter folding, laminating & edgebanding, machining & routing, and 5-piece door assembly. We operate five manufacturing facilities throughout the US and Canada for full coverage of North America.
For more information, call 651-695-1698 or visit www.northerncontours.com.