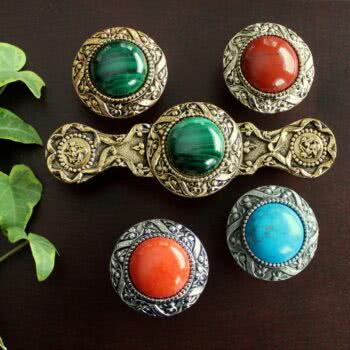 Notting Hill 2019-2020 Decorative Hardware Products Embody the Company's Motto: "The Beauty is in the Details!"
Your hardware – your style!
LAKE GENEVA, WI — Heading into 2020 Notting Hill is featuring the rich, warm look of copper and gold finish hardware. These finishes provide a visually striking contrast on white, painted or dark wood cabinets. The industry continues to see antique brass and dark brass finishes as on-trend for both traditional and refined rustic interiors.  And for appliances, tall doors and large drawers – Notting Hill offers the Acanthus and Florid Leaves over-sized pulls in a variety of lengths, including custom.
For 23 years, Notting Hill has designed high-end period-inspired hardware, expertly detailed by skilled craftsmen. Notting Hill artisans hand-cast the hardware of 100% lead-free pewter at a fine arts foundry in Wisconsin. A variety of finishes are available; as well as added embellishments of semi-precious stones, Swarovski crystals, pearls, enamel and hand-painting. Notting Hill products embody the company's motto, "The Beauty is in the Details!"
About Notting Hill
Since 1996, Notting Hill Decorative Hardware has embraced the motto, "The Beauty is in the Details." Notting Hill Decorative Hardware creates high-end hardware for cabinets and furniture. The company's artisan line of hardware is handcrafted at a fine arts foundry to produce a distinctive line of knobs, pulls, back plates and appliance pulls.
Notting Hill is available to the trade & dealers in the US and Canada. To learn more, please call 262-248-8890 or visit www.nottinghill-usa.com.