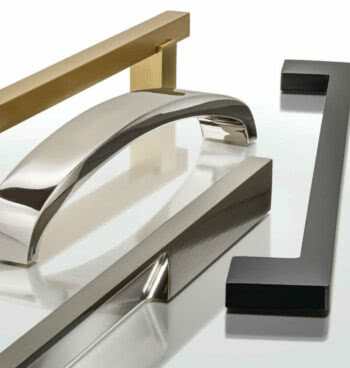 OMNIA Elite Hardware Adds a Stylish Finishing Touch
The solid brass cabinet and appliance/door pulls in OMNIA's new Elite line are designed, forged and precision machined in Italy. A superior manufacturing process as compared to die-casting, forging results in cleaner, crisper details and lasting durability. Not lacking in substance, these striking Elite designs are as impactful to the eye as the hefty pulls are to the hand. This latest collection from OMNIA is offered in a wide assortment of lengths and popular finishes.
About OMNIA
OMNIA Industries, Inc. was founded over 50 years ago with the intent of bringing to the market a new concept of upgraded decorative hardware at moderate prices. Since 1964, OMNIA Industries has supplied the industry with architectural hardware that is stylishly designed yet exceptionally functional. Backed by product innovation and a promise to provide personalized customer service, OMNIA has become a name recognized for excellence among architects and project designers.
More information can be found on the company website, www.omniaindustries.com.