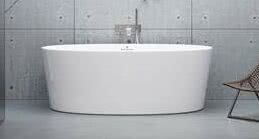 Orleans Tub by Americh is the Right Fit for Smaller Spaces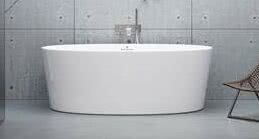 North Hollywood, CA — The Orleans tub by made-in-America tub brand Americh combines the classic French curve with the bold American presence. The Orleans' smaller size makes it the perfect freestanding option for designs within challenging spaces, or for bathers with a comfortable, more intimate space in mind. Its 16″ interior depth makes it easy to step in and out of the bath while the integral linear drain still allows a good depth of water for soaking.
About Americh
In 1982, the new Americh made a splash as the one-size-fits-all mold was broken, giving way to an exciting and unique customized bathing experience. Expertly crafted Americh designs reflect timeless elegance and classic lines, energized by subtle European influence. Americh bathtubs, shower bases, and custom designed baths have been used in many housing, condominium, and hotel projects all around the world. Today, Americh manufactures over 130 bathtub designs and almost 40 different acrylic shower base models. To learn more about Americh and its products, please visit https://americh.com/.