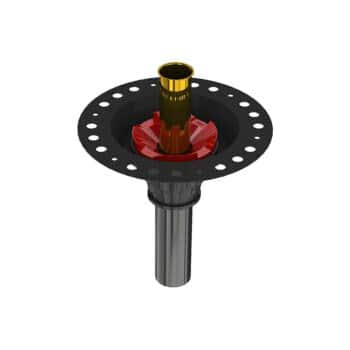 OS&B Updates Popular Time-and-Money Saving Island Tub Drain Series
Oakville, Ontario — OS&B® (Oakville Bending & Stamping, Ltd.) has updated its patent-pending, self-guided, self-sealing ITD Series of Island Tub Drains that can be installed on free-standing island tubs, claw tubs and regular tubs. The updated series now features a snap-off test cap and an asymmetrical deck plate designed not to interfere with a freestanding faucet rough-in.
The ITD Series allows for freestanding tub locations to be defined at the rough-in stage, allowing the tub to be installed over a finished floor. The ITD Series can help installers and renovators position a free-standing bathtub in minutes rather than hours.
"The popular updated ITD series is a hit with installers. It eliminates below fixture adjustments, makes installation in tight spaces easier and has a built-in snap off test cap for water/air/smoke testing," says Tom Hamilton, national sales manger for Marketing Representatives LLC, a representative for OS&B in the Midwest. "You can install a freestanding bath tub in minutes. Your job just got easier™."
The ITD Series saves the plumber numerous steps during installation of Claw Foot and Island Tubs, and long after the tub is in use, it makes for a cleaner and more stable setting for the tub and tile. The ITD Series more than makes up for its cost in time savings.
No more hand-maneuvering or manipulating the island tub into position. Installers can simply attach the correct tailpiece (supplied) or ABS Reducing Bushing (also supplied) to the bath drain and lower the tub into the specially designed self-guided rubber seal. Remove the tub by simply lifting, saving time and money. The ITD-35 is tailpiece mounted on the tub prior to positioning.
The CSA Certified island tub drain models available are ITD-35 ABS Island Tub Drain, ITD-5135 PVC Island Tub Drain and are ID-357 Cast Iron
About OS&B®
OS&B®, founded in 1975, is a leading Manufacturer and Distributor of Plumbing Products. Located in Oakville Ontario, OS&B is Canada's largest manufacturer and Distributor of Waste & Overflows, Traps, Lavatory Drains, Tubular Brass Fittings and various other plumbing parts. OS&B® services the Wholesale and Retail Industries. OS&B manufactures for and supplies to some of the largest OEM brands in the world offering in-house product design and testing in order to address specific needs and requirements. Exclusive trademarks of OS&B® include Clicker™, Cable-Drive® and Fill&Drain™. OS&B® has earned a reputation for offering innovative and high-quality products at competitive prices. OS&B products come in many of today's most popular finishes, including Brushed Nickel, Pearl Nickel and Venetian Bronze.