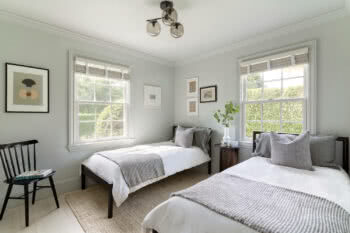 Paintzen Might Be Your Answer for Finding a Professional Painter for Your Project.
Paintzen's Trade Partners Will Receive Exclusive Perks and Exceptional Services
NEW YORK, NY — Paintzen, the digital on-demand booking platform that makes it quick and easy for homeowners, renters, designers and stagers to get spaces painted by a trustworthy professional, has launched a design trade program that offers exclusive perks and services to its members along with access to a platform of hundreds of professional, experienced painters and wallpaper installers across the country.
Members of the interior design, decorating, home staging, real estate, concierge and other industries are invited to sign up as a Paintzen trade partner. With the new program, accessible through the Paintzen website, trade partners are each assigned to a dedicated Project Advisor who will assist in reviewing floor plans, drawings, photos, and project scope to quickly provide an accurate quote.
"We're truly thrilled to launch this program, as it allows design professionals to complete their painting and remodeling projects more seamlessly than ever," said Kristen Chuber, Paintzen's senior director of marketing. "We have received feedback from designers who expressed how hard it can be to find a professional, reliable painter or wallpaper installer for their clients on a tight timeline. At Paintzen we understand that when we're working with a designer, it's of utmost importance that we deliver to the quality that he or she, and the client, expects. That's why we back all of our work with a 100% satisfaction guarantee."
Offering more than 2,000 PPG paint colors with an option to color match any item, Paintzen will deliver all paint and supplies to the project site. Paintzen's extensive platform of contractors allows the platform to dispatch crews in as soon as 72 hours, or schedule as far in advance as necessary; making them a perfect fit for both long-term projects or last-minute fixes.
"We have established a dedicated team to support our trade partners to ensure they receive the highest quality of service," said Meghan Stewart, senior director of residential sales. "The goal is to save designers time: no longer do they have to research vendors or worry about managing the painting process. Paintzen continuously vets our crews for quality and professionalism. Our trade partners can rest easy and focus on what they love – designing and working with their clients."
Available in all major markets – Boston, Chicago, Dallas, Houston, Los Angeles, New York City, Pittsburgh, Portland, San Francisco, Seattle and Washington D.C. –  the program includes a wide range of services below:
Residential interior painting
Residential exterior painting
Small office painting, including logos, accent walls & decal installation
Wallpaper installation & removal
Decorative painting & murals
Textured painting & faux finishes
Skim coating & drywall repair
Cabinet painting, staining, refinishing
Deck and patio painting & staining
Color matching
Complimentary color swatch sampling
Members receive 10 percent back on every project they book with Paintzen with an automated payout within 30 days of job completion. Additional perks include:
Curated PPG paint palettes that can be shared with clients
Custom landing page for a co-branded experience
Features on Paintzen's blog, newsletter, social media, and other placements sharing work completed together
Free paint swatches & color fan decks from PPG
Opportunities to collaborate on educational events, lunch & learns, & more
Paintzen will be accepting trade partners through its website. Designers interested in participating can visit paintzen.com/trade-partners or they can email [email protected].
About Paintzen
Founded in 2013, Paintzen is revolutionizing the way property owners and renters paint their living spaces. Utilizing a simple, all-inclusive platform, Paintzen offers color consultations, quick online quotes, and on-demand booking of professional painting & wallpaper installation services. Eliminating the hassles that come with a renovation, the company's proprietary algorithm matches homeowners and designers with a vetted, locally sourced, and fully insured paint contractor whose skills match the scope of their project. Paint and supplies are included in the quote and delivered to the project site, allowing for a quick and seamless start in as few as 72 hours. Acquired by PPG PAINTS™ in 2018, Paintzen has since expanded its network, providing services to the following metro cities and surrounding suburbs: New York City, Boston, Washington D.C., Chicago, Dallas, Houston, Seattle, Portland, Oregon, the San Francisco Bay Area, Los Angeles, and Pittsburgh. For additional information, please visit www.paintzen.com.