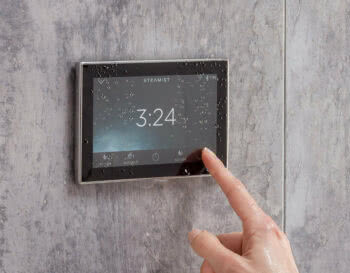 Steamist Patented Dual-Sensor Control Technology in Steam Showers Takes Consistent User Comfort to a Higher Level
EAST RUTHERFORD, NJ — A U.S. Patent has been issued covering dual temperature sensor technology for Steamist® residential steam shower controls. All of Steamist's current digital control models are equipped with this proprietary feature, which helps prevent uncomfortable temperature swings for the steam bather.
The human body is very sensitive to temperature changes. Fluctuations of more than a few degrees inside a steam shower can make the user experience much less enjoyable, according to the company. Maintaining the user's desired "setpoint" temperature is largely dependent on the accuracy of sensor readings from the control inside the steam enclosure.
A typical steam shower control only has one sensor, which often detects conflicting temperatures from inside the enclosure and from the cold tile wall to which it is mounted. These "false cold" readings cause the control to direct the steam generator to add more steam, pushing temperatures above the user's comfort level.
Steamist's newly patented technology overcomes this problem by adding a second sensor, positioned to get a more accurate reading of actual temperature inside the steam enclosure. Steamist 550, 450 and 250 steam shower controls all calculate the need for steam based on combined dual-sensor input.
"This patent covering our dual-sensor controls locks in a major advantage over other manufacturers," said Jim Scalera, product manager for Steamist. "Dual-sensors, combined with our SteadySteam generator technology, put our steam showers in a class by themselves when it comes to delivering consistent user comfort. We like to say that we put our customers' steam experience on cruise control."
About Steamist
Based in East Rutherford, N.M. Steamist offers a full line of residential steam bath and sauna products and systems, as well as a full commercial line of Steam Generators, Controls and Maintenance Products. For more information, visit www.steamist.com.