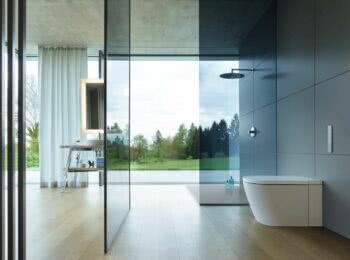 Philippe Starck Smart Toilet From Duravit Raises the Innovative Bar
Atlanta, GA — With a history of revolutionizing the bathroom and boundary-pushing design at its core, Duravit has introduced the new SensoWash® i shower-toilet that combines technical innovations with iconic design and hits every mark for the contemporary bathroom. This next level of the SensoWash® series fuses 21st century design by Philippe Starck with the impeccable quality and attention to detail that only Duravit can provide.
"Duravit prides itself on setting, not following, the trends of 'what's next' in the bathroom space," explains Duravit USA President Tim Schroeder, "and we believe in coming out of the gate with perfection. SensoWash® i is a testament to that. After years of development and refinement, we're proud to introduce a shower-toilet that achieves both the highest standards in technology and design for your future bathroom."
Leading iconic design
Visually minimal and technologically innovative, it testifies to an entirely new feel for design, hygiene, and comfort in the bathroom. The shower-toilets, available as SensoWash® i Plus or Lite, form a complete, self-contained unit. Materials and functions – ceramic, toilet with electronic flushing system, and modern bidet comfort – blend into an elegant whole. With the principle that the best design is grounded in simplicity, Duravit focused on the interaction between the toilet and the comfort features, as well as an elegant look with a unique and subtle flat seat.
Intuitive operation
SensoWash® functions are operated via remote control, offering functional and comfortable design. Personal preferences can be stored in two different user profiles. SensoWash® i can also be operated via smartphone using the new SensoWash® app, available for Android and IOS. Both app and remote are easy to employ and understand, whether the user is new or familiar with SensoWash®.
Comfort features
Smart finishing touches, like the motion sensor for touchless lid, which opens via the SensoWash® i Plus app, guarantee the highest comfort. In all versions, water temperature, warm air dryer, water spray intensity, and spray wand position can be easily adjusted. The flush function and odor extraction may also be controlled via the remote control or app. Individual settings and comfort functions can be controlled for the heated toilet seat via app, including the popular night light function with an LED that illuminates the inner basin.
Dedication to hygiene
The stainless steel sheeted spray wand and nozzle are cleaned automatically before and after each use. The nozzle can be detached for further cleaning. SensoWash® i also offers an energy-saving mode which is set via app in seven individual modes. Additionally, the heated seat shuts off automatically when SensoWash® is not used for 48 hours. Other innovative and hygienic add-ons are available, such as Duravit's patented antibacterial HygieneGlaze 2.0 coating. This game-changing finish is baked into the ceramic surface during the firing process, acting fast and effectively to kill 99.999% of germs within a short period of time and providing lasting protection.
Efficient, water-saving flushing
SensoWash® i meets the highest flushing requirements with its perfect performance. The improved rimless technology with rotating flushing stream in the inner bowl is a result of the perfect combination of geometry, fluid mechanics, and design. By using an electronically controlled pump, the highly efficient flushing of the inner bowl engages a lateral water outlet on the upper bowl rim. The optional eco flush system is also environmentally friendly: SensoWash® i flushes effectively and hygienically with a water volume of 1.16 or 0.82 gallons.

SensoWash® i, Design by Philippe Starck
Features at a glance:
Shower function
Rearwash
Ladywash
Oscillating Comfortwash
Adjustable spray wand position
Adjustable water temperature
Adjustable water spray intensity
Seat
Automatic opening and closing of the lid (only Plus version)
Electromotive actuated lid (only Plus version)
Soft-closing mechanism
Adjustable seat temperature
Seat Sensor
Energy saving mode
Odor extraction (only Plus version)
Automatic odor extraction
Adjustable odor extraction follow-up time
Comfort
Integrated water-saving siphonic flush
Manual/ Automatic odor extraction (only Plus version)
Adjustable warm air dryer temperature
Programmable user profiles
Enhanced function scope via app
Night light function
Intuitive remote control and app operation
Hygiene
HygieneGlaze
Duravit Rimless
Spray wand and nozzle are cleaned automatically before and after use
Spray nozzle removable for cleaning
Pre-flush function and automatic flushing function
Descaling function via app
Temperature range
Shower water temperature 90 – 104 °F
Seat temperature 91 – 99 °F
Dryer 104 – 131 °F
About Duravit
Founded in 1817 in the heart of Germany's Black Forest, Duravit is a leading manufacturer of designer bathrooms. Duravit operates in 130 countries worldwide and has been honored with numerous national and international awards for its innovations in design and technology. The company's collaborations with internationally renowned designers such as Philippe Starck, Phoenix Design, EOOS, Norman Foster and sieger design yield forward-thinking, environmentally conscious and award-winning products that bring the bathroom to life. Duravit USA, Inc. headquarters are based in Duluth, GA. For more information on Duravit or to find a local distributor, visit www.duravit.us or call 888-DURAVIT.