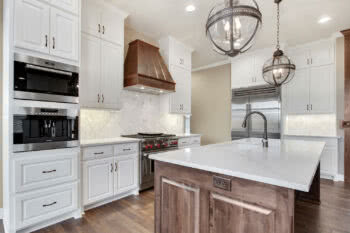 Premier Copper Products Committed to Products that Combine Function and Art
Phoenix, AZ – Can a product for the kitchen be functional AND a piece of art? Just ask the people at Premier Copper Products, a family-owned business committed to designing and importing durable, affordable, eco-friendly copper products that combine function and art.
"Our products are hand-crafted in Mexico by skilled artisans," says Dylan Cisneros, National Sales Manager for the company. "Attention to detail is evident in each of our hand-hammered copper products – from traditional or apron-front sinks to elegant bathtubs, to an array of authentic copper home accessories. This function/art combination is just as evident in our range hoods."
Range hoods come in a variety of styles and shapes and are functionally used as an exhaust system in the kitchen for grease, smoke and cooking odors. Size and capacity are important in evaluating, but so are the aesthetics.
When considering the visual impact of the installed hood, the importance of selecting the right product can play a huge factor in the overall kitchen design.
"We have been seeing designers incorporating the use of mixed material for today's modern home," Cisneros explains. "Using handcrafted copper products provides a great opportunity for designers to make their designs stand out. When you place a piece of copper that is both functional AND art, like a range hood, it makes a powerful design statement about you that speaks to your guests."
Cisneros points to their 38″ Hammered Copper Wall Mounted Euro Range Hood as an example. This one-of-a-kind copper range hood is a perfect fit for any traditional or modern kitchen setting, he explains.
"This range hood comes complete with the expert ventilation system insert and will be the crown jewel of a kitchen, a true piece of functional art," Cisneros says.
The 38″ Hammered Copper Wall Mounted Euro Range Hood features hammered copper with steel frame construction in a hammered copper design. In an oil-rubbed bronze color, it has dimensions of 38″ x 24″ x 36″ and comes with a lifetime limited warranty. "If customers need their range hood made in a custom size or finish, let us know – we can accommodate just about any request." Cisneros states.

About Premier Copper Products
Located in Phoenix, Arizona, Premier Copper Products aims to provide naturally beautiful, high-quality, hand-crafted copper products that embrace affordability and sustainability. Their products are built to look beautiful and also endure for generations while keeping families safe from germs and harsh chemical agents.