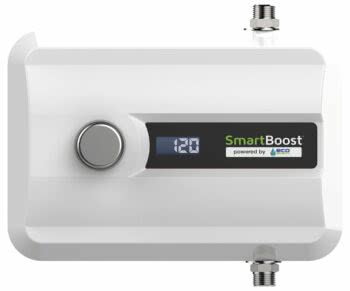 Say Goodbye to Cold Showers with SmartBoost Water Heater Booster by EcoSmart®
Give your existing water heater a boost and start enjoying nearly twice as much hot water!
Waterbury, CT — When it comes to showering, the two biggest complaints are: "it takes too long to get hot water," and "it's a race against time and cold water always wins." Neither of these is ideal and thanks to EcoSmart, there's a solution.
SmartBoost is a water heater booster, which connects directly onto the existing tank's hot water outlet or mounts on a nearby wall. It enables homeowners to increase the efficiency and performance of their existing gas or electric tank by 45%, giving it the power of a much larger tank without the installation and renovation costs. In fact, homeowners can use their existing electric tank wiring to connect SmartBoost. EcoSmart provides straight forward installation instructions that a savvy DIYer can follow.
SmartBoost delivers eco-friendly benefits too by activating only when the tank can't keep up with the hot water demanded. When paired with an electric tank, SmartBoost helps save energy and money while homeowners are away with eco mode and vacation mode.
Eco mode allows the homeowner to set a timer when their SmartBoost and tank will be turned off and then turned back on. Vacation mode allows the homeowner to turn their entire water heating system off with the press of a button.
Another solution to cold shower conundrums is a point-of-use tankless electric water heater, like the ECO 8 or ECO 11, which can be installed in a bathroom as a booster to the main hot water source. Negate the wait when transitioning from cold to hot water, which is a common problem when the traditional tank heater is installed in the basement and the shower is on the second floor. As the California Energy Commission explains: since the 1970s, the distance from the heater to the furthest hot water fixture has increased from 30 to 80 feet. This means it can take up to three times longer to receive hot water from a traditional heater. Homeowners benefit from point-of-use tankless water heating as this efficient delivery of hot water saves valuable time (no more waiting for hot water to arrive) and valuable water resources (no longer watching all that water run down the drain).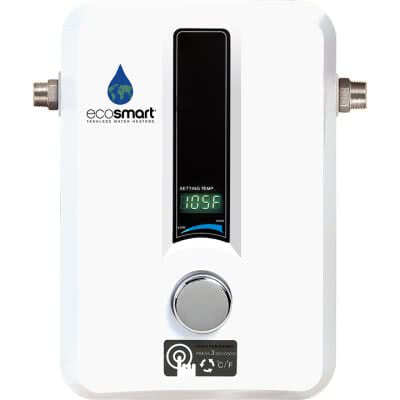 In warm climates, the ECO 8 can provide hot water for one shower at up to 1.9 GPM. ECO 11 can provide continuous hot water at up to 3.1 GPM, supporting a bathroom shower and sink simultaneously.
Both models feature:
Endless, on-demand hot water
Advanced, self-modulating technology, which adjusts energy needs based on how much warm water is needed
Digital display showing outlet temperature, which can be adjusted in 1-degree increments
Heating elements are durable and threaded for easy replacement
Compact size maximizes valuable storage space

About EcoSmart®
Since 1925, Rheem® has been delivering industry-leading innovations. Today, we're the only brand bringing advanced performance efficiency and integration in air and water comfort to homes and businesses around the world. EcoSmart is our brand that brings our life-enhancing tankless electric water heaters to homes and businesses and is part of the Rheem family of brands. EcoSmart is sharing the warmth, fulfilling not only solutions for living and sustainability, but the need for how we build our homes in a smarter, more technologically advanced way.
EcoSmart products are designed in the USA, are lead-free, and ruggedly constructed to last for decades. All EcoSmart tankless electric water heaters are ETL CERTIFIED to UL 499. Each tankless electric water heater is easy to install, dependable and supported by knowledgeable customer service. EcoSmart also assists its community by engaging students in STEM-based learning, opening Innovative Learning Centers across the US and in Canada, and participating in designing with Zero Waste material, energy, and water waste. EcoSmart is available online at homedepot.com and amazon.com, and select retail hardware partners such as ACE Hardware, True Value, Do It Best, and Orgill across the United States.
For more information and a complete list of products, visit EcoSmart online, www.ecosmartus.com.