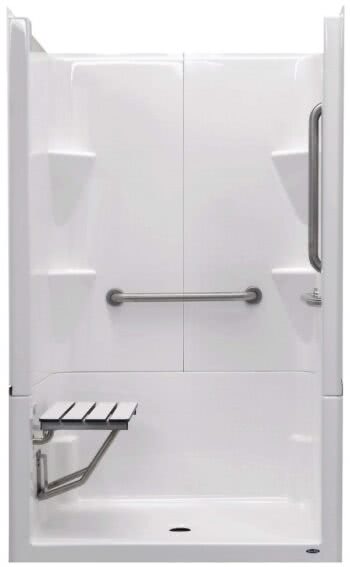 Showers Target Aging-in-Place Market with Special Features Designed to Help People Stay in Their Homes
St. Paul, MN – A line of easy-to-install showers is now available from Warm Rain® designed to help people to stay in their homes later in life. Called Friendly™ Showers, these low front threshold showers feature easy entry/exit  and walls reinforced with plywood to accept the installation of grab bars,fold-up seats or a molded in seats.
Ted Kronschnabel, President of Warm Rain, explains it this way: "We make the strongest shower system in the industry. One of our reps recently demonstrated this by suspending himself from the factory-mounted grab bars of an ADA shower unit. Our line of Friendly Showers is here to satisfy the growing demand of people who want universal design, or aging in place."
Kronschnabel is referring to the burgeoning market for people who want to continue living in their homes. Aging in place design: what you need to know for marketing is one of the resources people can use to help understand this trend.
"The ASID Aging in Place Council is well aware of  design issues and has marketing strategies, resources and great references about "aging-in-place" that every designer should know about – and read," he explains. "There is even a 60-page Design for Aging in Place Toolkit you can download for free."
Kronschnabel points out that something simple, like  built-in seating in a shower, is not so simple, unless you have a "friendly" shower.
"What if you want it to the left and the other to the right? What if you want to bathe your dog in there? Those alternatives call for a space that is less defined, something with flexibility like our Friendly Shower line," he says.
There are 15 categories in the Warm Rain line of Friendly Showers, including the H-248, which features a low front threshold for easy step over, a corner foot rest at 11.5″above the floor for shaving legs and washing the lower body comfortably. It is reinforced for the future installation of grab bars, and has flat walls for easy grab bar positioning at 34″ above the floor. There are four corner shelves for shampoos, soaps and accessories, and wood-reinforced pillars for shower door and curtain rod support. The textured floor meets and exceeds ASTM F-462 slip resistance standards.
"We have the widest variety to select from," Kronschnabel says. "But the number one difference is our 'Boot Print Base.' The most important aspect of any shower or tub/shower is the bottom base," he says. According to Kronschnabel the bottom base is what takes the majority of weight in a shower or tub/shower. "Warm Rain has been recognized as making the strongest tub/showers and showers that are handcrafted by skilled American workers," he points out.
For more information, including specifications, simply go to warmrain.com and navigate to the "Friendly Shower" tab.
About Warm Rain
Warm Rain, the Michigan based manufacturer of shower and bath products, manufactures ADA Compliant showers and tubs, Remodeling Tub Showers (3-piece), Shower skirts, Soaking Tubs, one-piece tubs and showers, as well as whirlpools and a variety of accessories.