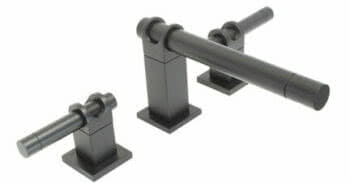 Sonoma Forge Strap Lavatory Faucets Get New Mono Finishes Options
Inspired by humble U-bolt fasteners, the Strap delivers strength and simplicity for a sleek, urban vibe.
Petaluma, CA – Sonoma Forge once again transforms the humble and utilitarian into the artistic and functional with its Strap lavatory faucet collection. With handles and a spout evoking the look of a cylinder inserted into the yolk of a common U-bolt fastener, the Strap offers an industrial-yet-modern aesthetic. The juxtaposition of curves atop solid square bases amplifies the contemporary feel. The Strap is now available in several mono finishes, for a softer, sleeker look, or with the original split finish with a more robust, muscular feel.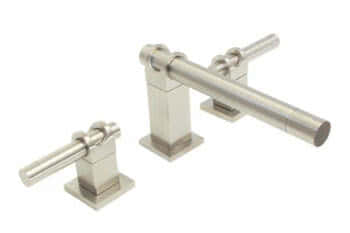 "Like many of our lines, the Strap lavatory faucet translates simple, everyday forms into something elegant and edgy," says Sonoma Forge President Erik Ambjor. "The resulting look is as at home in an urban loft as a modern condo."
The Strap comes in deck-mount and wall-mount widespread lavatory faucets and tub fillers with new solid finishes of Matte Black, Polished Chrome, Satin Nickel, Satin Brass, or Brushed Bronze. The original split finish combines Satin Black and Satin Nickel.
The spouts (deck and wall mount versions) can be adapted to become hands-free sensor faucets (Sans Hands). The collection also includes coordinating concealed shower systems, as well as matching accessories, including a robe hook, toilet paper holder, and towel bars—all are available in the split or mono finish.
About Sonoma Forge
Located in the heart of Northern California's wine country, Sonoma Forge's roots are steeped in a rich history of industrial foundries where craftsmen hand forge metals. We celebrate the art of skillful metalworking and machining by highlighting the beauty of metal in our unique line of designer faucets and tub fillers, dramatic shower systems, and coordinated bath accessories. Our distinctive product line offers homeowners refreshing design options with a decidedly masculine sense of style that enhances any setting, whether urban loft, country villa, or boutique hotel. Sonoma Forge's artistry and attention to detail is supplemented with innovative technology in models offered with Sans Hands, our exclusive sensor faucet technology. All Sonoma Forge products are handcrafted and assembled by artisans dedicated to forging the finest, most extraordinary products on the market.