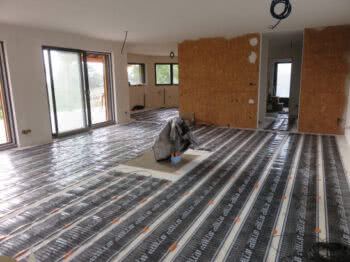 STEP Warmfloor® Offers Energy Efficient Poly Carbon Floor Heating Technology for Homes and Businesses
STEP® Warmfloor is a flexible and durable heating element made of a unique PTC self-regulating Nano poly carbon material. When the ambient temperature increases, the electrical resistance increases, and the consumption decreases. Due to the self-regulating properties of the heating elements they cannot overheat.
STEP Warmfloor® are very energy efficient and safe, and operate on low-voltage, AC or DC. The heating elements can be connected to an AC power supply or to a DC controller. Additionally, the elements can run on alternative energy, e.g. solar or wind power.
STEP Warmfloor® can be used for floor warming, complementary heat and total heating. The heating elements can be installed in residential, commercial and industrial applications under most flooring materials. Other applications include snowmelt, roof de-icing, RVs and OEM products.
All products are made in the USA with environmentally friendly and recyclable materials.
About STEP Warmfloor
STEP Warmfloor is a U.S. manufacturer with in-house radiant heating experts. STEP Warmfloor offers high-quality radiant heating products for a variety of applications and is the world leader for flat polymer heaters. To learn more, please visit www.warmfloor.com.