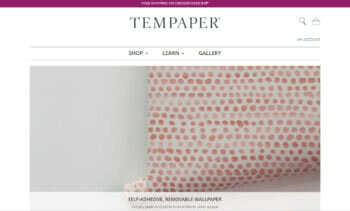 New Tempaper E-Commerce Website is a Resource for Designers Using Removable Wallpaper
BRICK, NJ — Tempaper, the leading removable wallpaper brand, has launched a newly-designed e-commerce website with revamped aesthetics and technical capabilities that focuses on improving consumer experience with speed, ease, and increased content.
The new website design allows for seamless navigation, while providing educational and inspirational content at every stage of the customer journey. Viewers can peruse design projects featuring Tempaper through the new 'gallery' landing page, and are encouraged to join the conversation by posting their own projects to social media with the hashtag #TempaperYourSpace. In addition, the new website will feature resources, such as how-to tutorials and educational video directives, to assist customers with the selection, purchasing, and installation processes.
"Understanding your customer's needs and knowing how they like to shop your designs is imperative," said Julia Au, Co-Founder and CEO of Tempaper. "Our website's redesign makes shopping removable wallpaper effortless, and helps customers realize their unique style through photo galleries, educational content and enhanced navigation."
In total, the new features to the website will include:
New Video Library | Educational, how-to videos that will help customers become Tempaper pros.
Customer Photo Gallery | The new customer photo gallery will give a glimpse inside the homes and design projects of Tempaper customers.
Enhanced Navigation | Customers can now shop over 100+ removable wallpaper prints with ease. An all new menu carefully categorizes by color, design, style and more!
Improved Product Views | With swatch and lifestyle images side-by-side, Tempaper aims to make the selection process easy by helping customers envision the pattern in their space.
Instagram Integration | Similar to the photo gallery page, customers can now also browse customer Instagram photos on each product page.
Increased Site Speed & Security | Browsing designs, scrolling the site and completing an order just got easier!
This year, Tempaper was recognized by Inc. as one of the fastest-growing private companies in America. This accolade is largely the result of the brand's dedication to evolving with the needs of its customer base. Tempaper, now in its 11th year of business, has seen significant change in the way people shop for home decor. To meet the needs of these digitally-driven customers, Tempaper has ensured that their website is performing and will continue to perform at the highest capability with competitive functions.
To learn more about Tempaper and to see the new website please visit www.tempaper.com.
About Tempaper
Founded in 2008, Tempaper is the leading manufacturer of self-adhesive, removable wallpaper that is free of lead, phthalates, and VOCs. The first of its kind, Tempaper's self-adhesive wall coverings are a fit for all spaces and tastes, pairing state-of-the-art production methods and materials. Born in the U.S.A., but known across the globe, Tempaper has secured a reputation for crafting sophisticated and trendsetting collections that are enhanced by their innovative, user-friendly products. To learn more about Tempaper, please follow them on Instagram at @tempaper_designs, Facebook at @tempaper, and Twitter @tempaper.