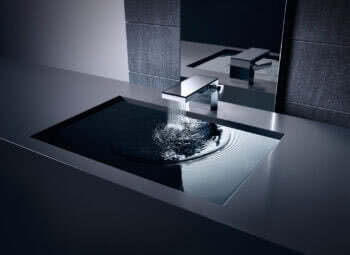 The AXOR Brand Introduces Luxury AXOR MyEdition Collection, Bringing Customization to Faucet Bodies and Cover Plates
New York, NY – The AXOR brand, pioneers of avant-garde design objects for luxury bathrooms and kitchens, announces AXOR MyEdition, which was displayed at ICFF, May 19-22 in New York. The tailor-made collection brings individualization to the bathroom, pairing sleek, low-profile faucet bodies with seven different cover plates including chrome, 13 PVD finishes, leather, wood, two types of marble, and a mirrored or black glass. It was designed in collaboration with renowned creative studio Phoenix Design.
"Making a personal statement through customized interiors is the essence of luxury. With the AXOR MyEdition collection, we have set the stage for personal creativity—colors, materials and patterns establish the point of departure for a unique and personalized faucet," Andreas Diefenbach of Phoenix Design says. Ryan Ramaker, Senior Director, Product Development, R&D and Marketing, adds, "The clever system of faucets and cover plates opens up a wide range of style possibilities. Cover plates can even be retrofitted, meaning users can change 'the look' at a later date."
Personalization: AXOR FinishPlus and AXOR Signature
The clean, linear design of the collection sets the ideal stage for personal expression and creativity. Faucets and tub fillers consist of two product parts: body and plate. Standard combinations include AXOR MyEdition chrome body paired with either the mirrored glass or black glass cover plate. Faucet and tub filler bodies can also be ordered separately and paired with seven different cover plates. With the AXOR FinishPlus program, 13 other special finishes are available, totaling an offering of nearly 300 more combinations geared towards personal taste. FinishPlus options include brushed gold optic, polished gold optic, brushed red gold, polished red gold, brushed bronze, polished bronze, brushed black chrome, and polished black chrome, among others. With the AXOR Signature program, custom markings and inscriptions are also available.
PowderRain
The new AXOR MyEdition collection integrates the innovative new Hansgrohe PowderRain spray type, a micro-fine mist that has a powder-like feel. Developed in Hansgrohe's R+D lab in Germany, the secret is in the aerator, which features precisely arranged nozzles that incorporate several microscopic openings rather than just one. The resulting spray is so fine it melts into the skin rather than bounces off of it. This allows the skin to retain warmth and also translates to reduced splashing at the sink. What's more, the spray is engineered to be incredibly quiet, a result of rigorous testing in an acoustics chamber.
About AXOR
AXOR develops, constructs and produces taps, showerheads and accessories for luxurious bathrooms and kitchens to perfection. At the highest aesthetic and technological levels, avantgarde, one-of-a-kind pieces and collections are created. Some of them are considered classics of bathroom design to this day. Collectively they embody the claim "Form Follows Perfection": not ending the developmental process until nothing more can be added or removed. Pace-setting design objects have been developed with this recipe for more than 25 years with world-renowned designers, among them Philippe Starck, Antonio Citterio, Jean-Marie Massaud and Patricia Urquiola. AXOR is a brand of the Hansgrohe Group.