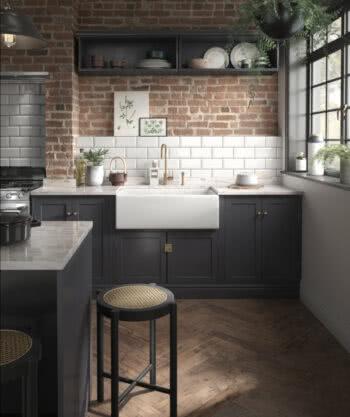 The House of ROHL Introduces New Shaws Classic Shaker Modern Fireclay Kitchen Sink
The Shaws Classic Shaker sink celebrates a contemporary take on the traditional apron front, farmhouse form with the introduction of the Classic Shaker Modern Single Bowl Apron Front Fireclay Kitchen Sink. It offers the same durability and extreme resistance to staining, alkali and scratches in a modern style. The Shaws Classic Shaker sink has a height of 10", a width of 33" and a depth of 18" and comes in two finishes: White or Parchment.
To learn more about the Shaws Classic Shaker sink, or any other ROHL products, please call 800-777-9762 or visit www.thehouseofrohl.com.
About Shaws
Shaws has been proudly handcrafting the world's finest sinks since 1897, using time-honored techniques lovingly passed down from master craftsman to apprentice for well over a century, resulting in quality, individuality, authenticity and a lifetime of service and pleasure. Each Shaws sink is a unique creation –iconic, aspirational and tactile –and comes with a lifetime warranty as a testament to its reliability and timeless quality.
About the House of ROHL
The House of Rohl is a portfolio of very special decorative plumbing and hardware brands collected from around the world including Riobel, Perrin & Rowe, Shaws, Victoria + Albert and ROHL. Each has a unique story that connects family, place of origin and a specialized manufacturing philosophy. For more information, please visit www.thehouseofrohl.com.