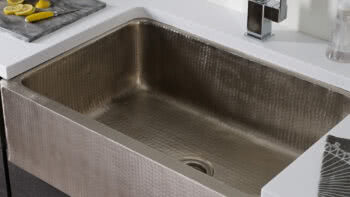 Thompson Traders New Hand-Hammered Stainless Steel Kitchen Sinks Create Versatility for Designers
Unmatched Beauty and Versatility from the Masters of Hand-Crafted Metal
Greensboro, NC – From the Chrysler Building in New York City to the Rolex Submariner watch, few metals combine the timeless beauty, strength and durability of stainless steel. Thompson Traders©, the source for original pieces of exquisite beauty and craftsmanship for the kitchen and bath, have expanded its hand-crafted designs to include a stainless steel collection.
Stainless steel sinks are not new to the kitchen market, but the Thompson Traders collection marks a uniquely creative departure from the design aesthetic typically associated with the material.
"We wanted to take that stainless steel luster that so many associate with a cool, minimalist look and marry it with our hand-hammering process to create a warmer, more organic appeal," explains Alejandra Ochoa de Thompson, founder, artist and product designer for Thompson Traders.
Expanding the Thompson Aesthetic
Known among designers for hammered copper sinks and bathtubs designed by Thompson and handmade by artisans in the coppersmithing center of Santa Clara del Cobre, Mexico, Thompson Traders worked hard to successfully translate their distinctive aesthetic to stainless steel.
"We spent two years and over ten thousand hours developing the plans and adapting the tools to bring our mastery of design, hand-hammering and finishing to our new stainless steel sinks," shares Thompson.
Made from 18-gauge high-grade 18/8 stainless steel, the new collection of hand-hammered stainless steel sinks offers performance and durability unrivaled by nickel and other materials. Its stain and corrosion resistant properties provide durable, iconic design pieces to be enjoyed for years.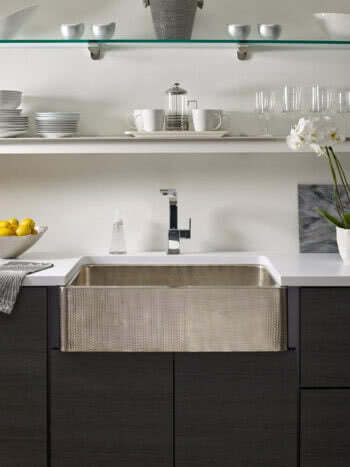 Creating Versatility for Designers
Designed by Thompson, the hand-hammered stainless steel collection includes seven different kitchen and prep/bar sinks. Created in part to meet homeowners' desires of coordinating materials and finishes with appliances, but to also provide a durable, light-weight material that retains its finish, through recommended care.
"Of course our stainless steel designs continue the same commitment to quality we create with each with our pieces," says Thompson, "but our goal with the new collection is to add value and versatility for our designer partners and their clients."
The collection includes the single-bowl, apron-front design of the Quiroga Apron Front Sink; the Villa Undermount Sink; and the Rivera Prep Sink with its square, flat bottom.
Luxurious Quality is All in the Process
"First, our stainless steel is heated and stretched in a press," explains Thompson. "Unlike metals such as nickel, the pressing process reduces the chance of leaking."
Second, Thompson shares, comes the hammering: "Each sink is expertly hand-hammered with a five-pound hammer to get its one-of-a-kind texture."
Finally, the sinks are pressed again to enhance the radius and dents – adding unmistakable artistry and uniqueness. Afterward, every stainless steel sink is meticulously cleaned and polished. The polishing is done with surgical precision by a craftsman who knows exactly the right amount of pressure to apply without damaging the metal.
Each hammered stainless steel sink is fitted to ensure correct sizing before dampening panels are attached and the sink is coated with sound-dampening paint that absorbs vibrations to stop unwanted noise.
About Thompson Traders
Alejandra Ochoa de Thompson first introduced American designers to her vision of "jewelry for the kitchen and bath" when she and her family launched Thompson Traders in 2003. Since then, the Greensboro, North Carolina company has established itself as the source for original pieces of exquisite beauty and craftsmanship for the kitchen and bath. A designer who has transformed an ancient craft into timeless art, Alejandra's distinctive aesthetic is reflected in the sinks, bathtubs and accessories that are hand-crafted by metal smiths using techniques perfected in 14th century Mexico.
Radiant stainless steel, brass, nickel and copper form the raw materials of Thompson Traders' artistry, enhanced by special finishes, textures and custom capabilities. No matter the material or finish, every piece is a personal invitation to experience a world of incomparable beauty. www.thompsontraders.com.