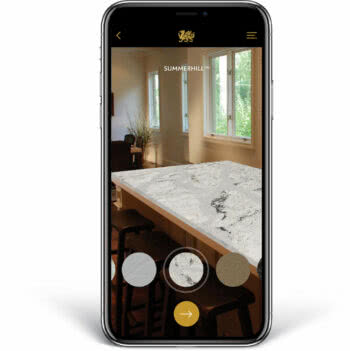 Update: Cambria Introduces Two Innovative Design Tools to Help Consumers and Trade Professionals Virtually Create Their Dream Spaces
Cambria AR ™ augmented reality app and DragonVision ™ revolutionize the home design industry
Le Sueur, Minnesota— Cambria, the only family-owned, American-made quartz producer, announced an industry-first with the launch of Cambria AR, an augmented reality (AR) app that allows consumers to virtually sample Cambria's beautiful countertop and surface designs in their homes or commercial spaces. Cambria AR is now available in Apple's App Store. In addition, the company is introducing DragonVision, an interactive design tool, enabling users to realistically visualize and virtually design all components of their dream kitchen.
"These two new design tools — Cambria AR and DragonVision — are game changers in the design industry for consumers and professionals alike," said Brian Peters, CMO at Cambria. "As a leader in stone surfaces, Cambria is adopting and bringing remarkable technology to market in a very simple but powerful app and design tool set. There's no better way to see Cambria's stunning designs than in your very own kitchen."
Cambria AR
Using the latest Apple ARKit technology, Cambria AR allows consumers and trade professionals to virtually map countertops and overlay Cambria designs, replacing the existing surface with the virtual design. They can even share the images and designs online with friends, clients, and family.
Built to be intuitive, Cambria AR works in three easy steps:
● Scan: Use the app to scan your room and surface.
● Create and Edit: Using a simple touch interface, users outline their countertop, island, or area to see with virtual Cambria designs. Once the surface is mapped,
the app automatically displays a new virtual surface. Users can choose from multiple design styles and swap back-and-forth to see how the design will look.
● Capture + Share: The app can capture and share photos or video of the virtual design, helping consumers make purchase decisions.
"AR will change the way consumers design their homes, and Cambria is facilitating this revolution in design innovation by integrating the virtual and real worlds nearly seamlessly," said Marc Jensen, Chief Innovation Officer at space150, Cambria's digital partner and developer of the Cambria AR tool. "Cambria AR sets a new bar for the consumer experience and solves a real challenge by making it as easy as possible to 'try before you buy."
Cambria AR is now available in the Apple App Store. For more information, please visit CambriaUSA.com/Cambria-AR​.
DragonVision
DragonVision is an interactive design tool that enables users to realistically visualize and virtually design the components of their dream kitchen.
Consumers and trade professionals can select from three kitchen styles (traditional, transitional and modern) and over 50 Cambria designs to create high-res stylized spaces. Additionally, users can mix and match countertop designs, cabinets, edge profiles and paint colors to visualize their dream space. DragonVision allows consumers to visualize Cambria's designs in home environments.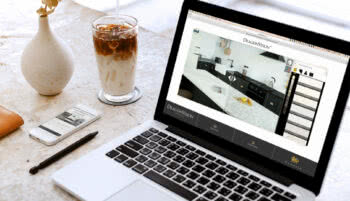 With DragonVision, available at ​DragonVision.CambriaUSA.com/​ homeowners and trade professionals can design their space in just a few easy steps: ​
Visit ​DragonVision.CambriaUSA.com/
● Select the style of room you are looking to design
● Chose a Cambria design from the 50+ options in the hue slider
● Mix and match designs for the island and perimeter
● Play with edge profiles, paint and cabinet colors, change view angles and compare designs side-by-side
● Once finished, copy link to save or share design with friends and family
Look for DragonVision online at ​DragonVision.CambriaUSA.com/​ and read more about Cambria at ​CambriaUSA.com​.
About Cambria
Cambria is the nation's leading producer of American-made natural quartz surfaces. As a stain-resistant, nonabsorbent natural stone surface, Cambria is strong, safe, maintenance free, and easy to care for. Headquartered in Le Sueur, Minnesota, Cambria is sold through an exclusive network of premium, independent specialty retail and trade partners that can be identified at CambriaUSA.com. ​#MyCambria