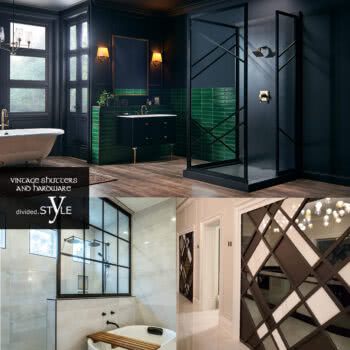 Vintage Shutters and Hardware Expands Footprint with Acquisition of Online Retailer, divided.STYLE
Provides Coastal Shower Doors Gridscape Series with expanded distribution nationwide and in Canada
Raleigh, NC – ZZZR, Inc., DBA Vintage Shutters and Hardware and DBA Raleigh Custom Glass & Mirror, today announced a partnership with Coastal Shower Doors through the purchase of independent online retailer, divided.STYLE, expanding the company's presence online and nationwide. The eCommerce collaboration with Coastal Shower Doors and the award-winning Gridscape Series provides shoppers located in the United States and Canada with the enhanced flexibility and ease of purchase from an online marketplace.
"divided.STYLE is an eCommerce site unlike any other, that allows customers nationwide and in Canada to easily shop online for the highly-coveted Coastal Shower Doors' Gridscape Series of shower doors," said David Zanfardino, co-owner of Vintage Shutters and Hardware. "We're excited to expand our capabilities with such a user-friendly platform that will improve the overall purchasing experience for our current and potential customers."
"Demand continues to grow for the modern, urban style of the Gridscape door and we are eager to broaden its availability to the market," added Tony Zanfardino, co-owner of Vintage Shutters and Hardware.
The partnership brings together two customer-centric and design-driven companies in the bath and shower enclosure industry. Vintage Shutters and Hardware offers more than 30 years of combined industry expertise, specializing in the highest level of custom glasswork, service and installation. Founded in 1972, Coastal Shower Doors has a long history of innovation, including the launch of the original Gridscape Series. The first of its kind, Gridscape was inspired by industrial factory windows. Mullions that can be customized to form an unlimited number of grid-configurations characterize the series. The door stands out as a bold bath centerpiece in diverse settings, from modern urban to farmhouse, nautical to English cottage. Now through Vintage Shutters and Hardware, customers can shop the eCommerce site, divided.STYLE, which offers consumers an easy-to-navigate shopping experience and brings the Gridscape Series to a whole new audience.
"With more consumers relying on the internet to shop, eCommerce is an area of focus for Coastal Shower Doors," said Patrick Cobb, Director of Marketing and Design for Coastal Shower Doors. "The extended capabilities in fabrication and distribution from Vintage Shutters and Hardware will enable us to expand our business and grow our online presence."
Gridscape products are available now through the website https://divided.style. To learn more about Coastal Shower Doors and the Gridscape Series, visit https://www.coastalshowerdoors.com.
About Coastal Shower Doors
Coastal Shower Doors combines cutting-edge manufacturing with ultramodern design to create the industry's finest bath and shower enclosures. Headquartered in Jacksonville, F.L., Coastal champions modern design, blending functional style into statement pieces that truly define a space. Each groundbreaking collection sets trends, offers chic solutions and stands apart as a design element on its own. Information about Coastal Shower Doors and the company's variety of products can be found at www.coastalshowerdoors.com.
About Vintage Shutters and Hardware
Based in Raleigh, N.C., Vintage Shutters and Hardware, also known as Raleigh Custom Glass & Mirror, has more than 30 years of experience in custom glass. Specializing in glass shower enclosures, glass shelving, custom mirrors, glass panels or custom-colored glass, Vintage offers installation services that make for a quick and efficient way to upgrade or renovate a house, townhome or condo. With the highest possible level of service and quality assurance, Vintage provides top-grade finished products for the building and remodeling industry—all supported by the motto, "Great Service Never Gets Old." For more information about Vintage Shutters and Hardware, visit www.raleighcustomglassandmirror.com.