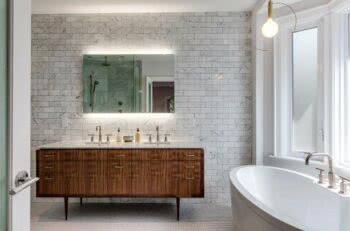 WarmlyYours Launches a New Line of North American Made LED Mirrors
Lake Zurich, IL ⎯ WarmlyYours Radiant Heating has recently expanded their product portfolio by adding a new line of wall-mounted LED Mirrors.
The Made-to-Order Collection of LED Mirrors was launched by WarmlyYours to help compliment their Marquee Series product line of hardwired, wall-mounted LED mirrors. The new line of custom LED mirrors features 11 different base models (including a medicine cabinet option) with different sizes and orientations. There are also 2 different LED color temperatures available with the Made-to-Order Collection, warm yellow and cool white. Julia Billen, the owner and president of WarmlyYours, said that one of the primary reasons for on-boarding the collection was to be able to provide customers with a customizable option.
"The design aesthetic of your home is as unique as your fingerprint. We knew we had to provide our customers with more options so that they could find the perfect option for their home," said Billen.
Another benefit of these mirrors is that they happened to be manufactured by a custom mirror shop just outside of WarmlyYours Canada's headquarters in the Toronto suburbs.
"When we toured the facility and saw just what they were capable of, we were impressed," said Billen. "But when we realized the benefits of having our supplier closer to ourselves and our customers, we knew we had to work together."
The Made-to-Order Collection also offers additional benefits such as an extremely high CRI of 90+ (CRI is a measurement of how accurately a light source will cause an item's true color to appear), all of the subcomponents are UL/cUL listed, and an LED bulb lifetime of 80,000 hours. They're also shipped in custom shipping crates to ensure that they arrive at the jobsite intact and undamaged.
The entire line is now live and can be ordered directly from WarmlyYours, click here to learn more.
About WarmlyYours Radiant Heating
For over 20 years, WarmlyYours Radiant Heating has offered the industry's most innovative solutions in radiant heating technology, from our flagship floor- heating systems and radiant wall panels to snow-melting systems, as well as comfort products, including towel warmers, mirror defoggers, shower floor and bench heating, and countertop heaters. With locations in the United States and Canada, WarmlyYours provides unrivaled personalized customer support from start to finish, featuring measuring and design services, 24/7 technical support, and our No Nonsense™ Warranty. For more information, visit www.WarmlyYours.com.