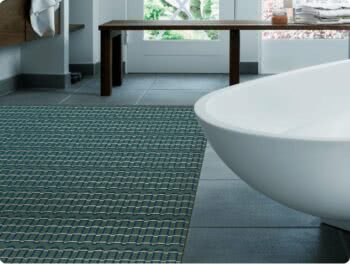 WarmlyYours Report: Heating Mats Help Drive 2019 Floor Heating Sales
Lake Zurich, IL ⎯ According to a recent industry report, radiant heating sales in 2019 were led by both electric floor heating mats and heating cables.
WarmlyYours, a manufacturer specializing in radiant heating products like electric floor warming systems, released their "2019 Q4 & Annual Industry Report" recently. This report analyzes the sales of radiant heating products within the wider context of the national housing and remodeling markets. One of the primary conclusions drawn in the report was that sales of WarmlyYours radiant floor heating products were led by growth in TempZone Easy Mats.
According to the report, sales of TempZone Easy Mats were up 15.8% in the fourth quarter of the year and up 10.3% for the year as a whole.  This product line features pre-sized fiberglass mats which have an electric heating cable attached to them. Compared to heating cables or rolls, the mat product is easy to install because it's simply adhered to the subfloor prior to being embedded in thinset or self-leveling cement.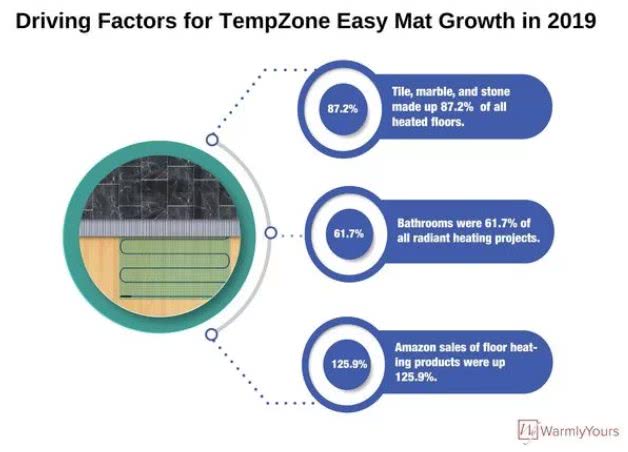 The report identified several causes for this growth including their popularity via ecommerce channels like Amazon and their use in some of the most commonly heated projects (tile bathrooms) where they're used in a method of radiant heating called "spot heating," where heating elements are only placed under high-traffic areas of the floor. This helps cut down on both material costs and operational costs.
Julia Billen, owner and president of WarmlyYours, also had some thoughts relating to increased popularity of the TempZone Easy Mat.
"One thing that has made the TempZone Easy Mat so popular is that it can be 'paired' with common bathroom fixtures to ensure that radiant heat is delivered where it's needed most. For example, we have a perfect mat to pair with a double vanity, so that two people can get ready in the morning at the same time while enjoying warmth and comfort. If you want to keep the area outside of your shower warm, we have a mat for that too," said Billen. "And the great thing is, by using Easy Mats, you can literally pick the new "hot spot" in your kitchen or living room for your family to hang out—because it's going to be the warmest and most comfortable spot in your entire home!"
To read the full report, click here.
For a video summary of this report's findings, click here.
About WarmlyYours Radiant Heating
For over 20 years, WarmlyYours Radiant Heating has offered the industry's most innovative solutions in radiant heating technology, from our flagship floor heating systems and radiant wall panels to snow melting systems, as well as comfort products, including towel warmers, mirror defoggers, shower floor and bench heating, and countertop heaters. With locations in the United States and Canada, WarmlyYours provides unrivaled personalized customer support from start to finish, featuring measuring and design services, 24/7 technical support, and our No Nonsense™ Warranty.
For more information, visit www.WarmlyYours.com.