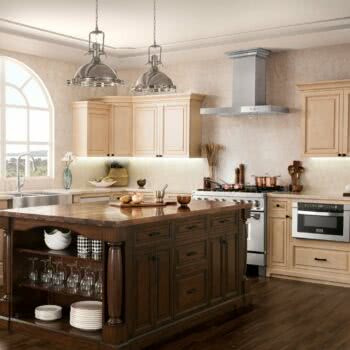 ZLINE CrownSound™️ Elevates Kitchen Entertainment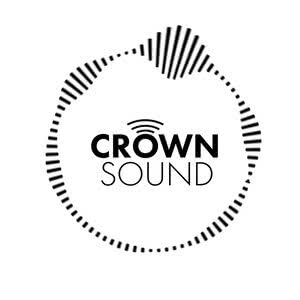 The kitchen is undeniably the center of every home. Not only is it a place full of culinary creations, but it has become a safe haven for cherished family time. A space where time spent is complemented by our favorite sources for entertainment. Integrated with our high-performing, professionally styled appliances, ZLINE's has utilized Bluetooth technology to take your kitchen experience to the next level.
We are incredibly proud to introduce the ZLINE CrownSound™️, a Bluetooth crown molding compatible for our most popular models of kitchen range hoods – a truly unique entertainment addition for your kitchen space. Easily upgrade your current compatible range hood by simply swapping out or adding on the new crown moldings, or available as a bundle through our appliance retail partners.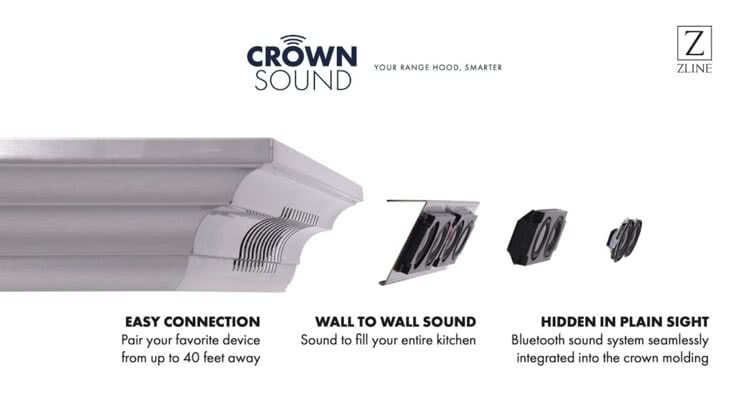 Never Miss a Beat
ZLINE CrownSound™️ transforms the elegant ceiling transition of ZLINE range hoods into a high-fidelity, Bluetooth sound system of incredible sonic capability – creating the ultimate entertainment area for you and your guests. With high-definition bass-boosted speakers, this upgrade is certain to create the ultimate kitchen atmosphere. Whether listening to your favorite morning podcasts while crafting breakfast, or spontaneous kitchen dance parties, you'll be sure to never miss a beat.
CrownSound™️ is designed with convenience in mind. Easily pair your bluetooth compatible smart device up to 50 feet away for optimal access and control of audio in your kitchen. Never miss a beat with this integrated bluetooth technology, eliminating the need to re-charge traditional Bluetooth speakers.
Achieve a functional, modern upgrade that is perfectly harmonized in your favorite ZLINE range hood designs. Now available with compatible wall range hood models including the KB, KL2, KL3, KE, KZ, 667, and 697.
About ZLINE Kitchen and Bath
Founded by Andy Zuro, ZLINE Kitchen and Bath is based in the USA. Family owned, with headquarters in Ohio, Nevada and Tennessee, all products are designed and shipped from the United States by Andy and his team. All products come with an extensive and friendly manufacturer's warranty. To learn more about ZLINE and its products, please visit https://www.zlinekitchen.com/.