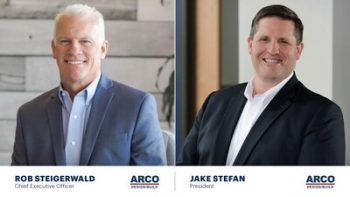 ARCO Design/Build Announces Leadership Transition of Rick Schultze and New Leaders Rob Steigerwald and Jake Stefan
ARCO Design/Build an award-winning national design-builder of light industrial and commercial projects announces the transition of founder Rick Schultze from CEO to Co-Chairman of the Board of Directors and naming new leadership with Rob Steigerwald as Chief Executive Officer and Jake Stefan as President of ARCO DB Companies, Inc. 
ATLANTA, GA — ARCO Design/Build has announced a transition in key leadership, as Rick Schultze, Co-Founder and Co-Chairman of the parent company, retires as Chief Executive Officer and continues to serve as Co-Chairman of the Board of Directors. Mark Mummert, former President and current Co-Chairman of the parent company will also serve in this role alongside Schultze.
This transition marks the beginning of new leadership for the organization, with the promotions of Rob Steigerwald to Chief Executive Officer (CEO) and Jake Stefan to President. Together the team provides leadership for the parent company that includes eighteen divisional offices in cities around the country and thirty-two total divisions comprising ARCO DB Companies, Inc.
"We're honored to continue to build upon the legacy of leadership that Rick Schultze and Mark Mummert provided to ARCO Design/Build, our associates, and our valued clients," said Rob Steigerwald, CEO of ARCO DB Companies, Inc. "Our entire team remains passionately committed to understanding the business of our customers and delivering solutions that solve their problems and better position them for growth."
Rob Steigerwald, the newly appointed CEO, brings over thirty years of experience in the construction industry, having worked as an executive with Fluor Corporation and Jacobs Solutions and collaborating with some of the nation's most respected industrial corporations. His leadership at the ARCO Design/Build Philadelphia office produced exceptional growth and success in the northeast, resulting in expansion offices in Baltimore, New York, Richmond, and Raleigh-Durham.
"Our growth and success today are possible thanks to the early work that was put into building the culture of the company around sound core values and hiring the best and brightest in the industry," says Jake Stefan, newly named President of ARCO DB Companies, Inc. "I am excited and energized around continuing my contributions to the company in ways that advance our organization forward as the builder of choice for end users, real estate developers, and brokers looking to build successful projects."
With over twenty-five years of experience in the industry, Stefan brings a wealth of knowledge and extensive relationships to his role as President of ARCO DB Companies, Inc. Stefan most recently led the ARCO Design/Build Build-To-Suit division guiding the delivery of national design-build solutions for clients across various industries, including cold storage, food processing, manufacturing, life sciences, distribution centers, and speculative development.
ARCO Design/Build was founded in 1995 by Rick Schultze as the first expansion office outside of ARCO Construction Company based in St. Louis. With a focus on design-build project delivery, ARCO Design/Build grew in prominence through consistent delivery of successful build-to-suit projects for end-users and speculative developments for real estate developers and brokers nationwide. Today, ARCO Design/Build has eighteen offices around the country and has been named the #1 builder of Warehouses and Distribution Centers by ENR Magazine in 2020, 2021, and 2022.
"Working with clients and helping their business be more successful while building a team of talented design-build managers, superintendents, architects, structural engineers, and business leaders has been a tremendously rewarding experience for the last 30 years," adds Rick Schultze, Founder and Co-Chairman of ARCO Design/Build. "I am excited and confident in the continued success of the organization with the proven track record Rob and Jake have to support their roles leading the organization."
About ARCO Design/Build
ARCO Design/Build (ARCO) is widely recognized as a construction industry leader for various industrial project types, including cold storage warehouse, light industrial distribution, and manufacturing. As a national design-build firm, ARCO offers turn-key design-build services that provide a direct relationship with a single point of contact, resulting in cost savings and clear lines of communication. ARCO's capabilities span from project feasibility studies, site selection, and complete design to value engineering, code consulting, and full general contracting. Additionally, ARCO is 100% associate owned as an ESOP. With architectural services and structural engineering in-house, ARCO provides clients with a streamlined and efficient process, ensuring exceptional results.