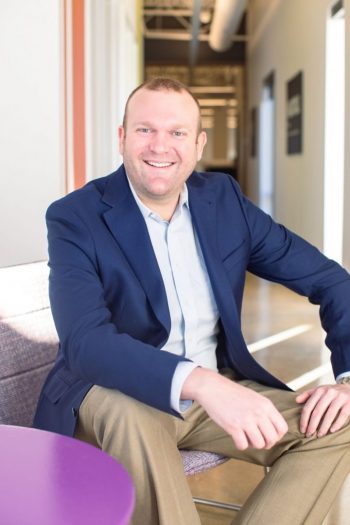 Jake Wagoner, AIA Joins KAI Design Team
KAI Design has announced hiring Jake Wagoner, AIA, NCARB, EDAC, LEED Green Associate, as Project Architect at its St. Louis office.
"KAI is elated to have Jake join our design practice in St. Louis," said KAI Managing Partner Brad Simmons, FAIA. "Almost immediately he dove into several projects, all at different design phases and showcased his flexibility, collaborative style and technical skills.".
As Project Architect, Wagoner's role is an integration point for identifying and implementing industry best practices and serves to drive holistically sound design projects. He will drive collaboration with the entire internal and external project team, while maximizing the use of all available resources, coordinating and integrating technical products, while always aiming to work within the agreed budget, hours and schedule parameters.
"Jake brings an outstanding background with highly complex technical projects ," adds Simmons, "and his positive impact within our architecture group offers another creative resource to support our mission of Transforming Communities."
Wagoner has Deep Experience
Wagoner has 13 years of industry design experience, with expertise in conceptual design layout, evidence-based design, sustainable building practices and construction administration.
Prior to KAI, Wagoner worked as a Project Architect for HOK in St. Louis where he designed renovations to Saint Francis Hospital's Central Sterile Processing Department in Tulsa, Oklahoma, and also worked on the conceptual design for Indiana University Health's $2 billion campus. Additionally, he oversaw the design of two $70+ million mental health facilities for the Wyoming Life Resource Center and Wyoming State Hospital.
While working as a Project Architect for The Beck Group in Dallas he was a collaborative team member contributing to the design and construction of the new Cox Health Bed Tower.
Wagoner has a Bachelor of Science in Business Administration from Saint Louis University and a Master of Architecture from Texas A&M University. He is a registered architect in Texas and is also certified through NCARB, EDAC and the U.S. Green Building Council.
When not working with clients, Wagoner enjoys spending time with his daughter, golfing and learning to fly fish.
About KAI Enterprises. KAI Enterprises is a national design and build firm providing delivery-oriented building solutions with a diverse portfolio of experience, in-house multi-discipline professionals, and expertise in both design and construction delivery. Founded in 1980, KAI has grown into one of the largest minority-owned firms in the AEC industry. For more than 40 years, KAI has been instrumental in transforming communities through its expertise in residential, commercial, K-12, higher education, healthcare, science and technology, aviation, mobility, sports and entertainment, government, water and community-focused projects. KAI Enterprises is comprised of four distinct business units—KAI Design, KAI Engineering, KAI Build and KAI 360 Construction Services. To learn more about KAI, visit www.kai-db.com.
Editor's Note:
One of the projects on the KAI books is the $10M project at 9947 West Florissant Avenue Senior Residential Dellwood. Site work and new construction of a multi-residential development in Saint Louis, Missouri. The working plans calling for the construction of a 44-unit multi-residential development. The developer is Centene Corporation, 7711 Carondelet Ave., Clayton, MO,63105 (314)-725-4477. The Owner is the Urban League of Metropolitan St. Louis, Inc. 3701 Grandel Sq., Saint Louis, MO, 63108, (314)-615-3600.