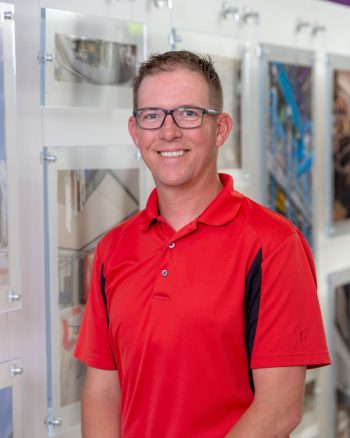 New Square UP Preconstruction Manager Josh Knaust Brings Drive, Passion to Win and Customer Focus
(St. Louis, MO) The UP Companies (UPCO) proudly announces the promotion of Josh Knaust from Estimator to the role of Preconstruction Manager at Square UP Builders.
In his new position, Knaust works with the Director of Preconstruction to establish goals for the department and to implement best practices within the group to achieve reliable and consistent bidding and pricing outcomes. Knaust manages and mentors a team of subject matter experts within the department and works directly with field operations to seek the necessary input and information relative to UPCO's pricing approach, field means and methods, risks and opportunities.
Prior to joining Square UP in the fall of 2018, Knaust was the owner of Gateway Drywall, Inc. based in Wentzville, Missouri. Founded in 2012, his company provided plastering, drywall and insulation services and installation.
"Josh checks all the boxes in terms of his skillset, drive, passion to win, customer focus, and his team mentality. Josh will continue to play a pivotal role in the future of Square UP Builders," said UPCO President Brian Arnold.

About The UP Companies
Headquartered in St. Louis with a full-service regional office in Kansas City, The UP Companies (UPCO) is one of the Midwest's largest full-service sub-contracting companies offering fully integrated solutions for general contractors, owners and facilities management professionals.
For a decade, UPCO has focused on its mission of Building UP Communities Through Innovation, Diversity, and Integrity, providing superior design and contracting services through each of its distinct operating companies— Power UP Electrical Contractors, Square UP Builders and Hustle UP Laborers.
Power UP is one of the region's largest minority-owned, full-service electrical contractors and a leader in electrical and technology systems design, construction, installation and maintenance serving the commercial, residential, industrial and institutional marketplaces.
Square UP is one of the region's largest full-service carpentry contractors specializing in high-quality rough and finish carpentry and drywall services for the commercial, industrial, institutional and healthcare markets.
Hustle UP is a certified minority-owned business offering general labor, selective demolition, general clean up, site maintenance and final cleaning services.
UPCO delivers a highly diverse and exceptionally productive union workforce that is fit tested, safety-trained and lives up to The UP Companies' reputation of ensuring a timely and successful completion of construction projects. For more information, visit www.theupcompanies.com.