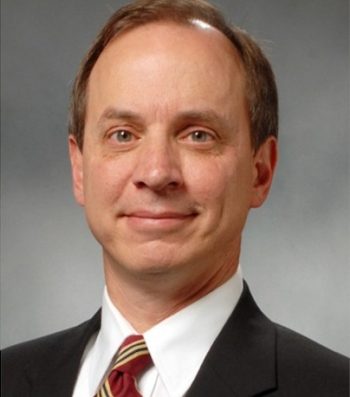 Paul Heflin, AIA, LEED AP Brings Innovation, Big-Picture Focus to Woolpert as New Market Director
Heflin is known for his leadership, business development and technical design skills.
WASHINGTON, D.C.— Woolpert has hired Paul Heflin as a market director, leading architecture, engineering, and interior design strategy for Woolpert's private sector clients. The licensed architect has decades of experience in design and construction management, business development and international business operations.
After serving as senior vice president and managing a multidisciplinary architecture and engineering practice for several years, Heflin took a position managing design and construction for the North American Division of an international food services company. He said working at both design firms and at companies that contract for design services has provided invaluable perspective for his leadership role at Woolpert.
"Some design firms we hired did a great job of addressing client needs, but others did not," Heflin said. "Clients have financial, schedule and market pressures that A/E firms must understand and support. Design is extremely important, but it is only one piece of the puzzle. Design firms that perform well are able to see the entire picture. I joined Woolpert because they are creative, innovative, structured and organized, and they see the entire picture."
Heflin earned his master's degree in architecture from the University of Colorado and his bachelor's degree in business administration from Mississippi State University before moving to the East Coast and ultimately settling in Washington, D.C. He is a long-standing member of the American Institute of Architects, is certified by the National Council of Architectural Registration Boards and has earned his LEED AP credentials through the U.S. Green Building Council.
Heflin's architecture and engineering experience supports a variety of client types that Woolpert serves, including Fortune 500 companies; hospitality, multiuse and educational; local, state and federal governments; and geospatial science and technology agencies.
"I've been fortunate to work for a wide number of clients, delivering technically complicated building types that require a specific skill set," Heflin said. "Woolpert's extensive experience within and across the architecture, engineering and geospatial (AEG) industries has enabled it to develop a holistic view of design that we can embrace and support with the private market. I am looking forward to leveraging my past experience to help our clients embrace all that Woolpert has to offer, thereby adding greater value to their businesses."
Woolpert Buildings Sector Leader Suzette Stoler said she appreciates that Heflin has built a reputation for outstanding design leadership, while being highly skilled in business development and business operations.
"Paul is known as a creative problem-solver who delivers technically complex projects that support both the needs and aspirations of clients," Stoler said. "His desire to strategically expand Woolpert's private market services, both geographically and in terms of scale, are in line with our goals as a firm. We are thrilled that Paul is part of our leadership team."
About Woolpert 
Woolpert is the premier architecture, engineering, geospatial (AEG) and strategic consulting firm, with a vision to become one of the best companies in the world. We innovate within and across markets to effectively serve public, private and government clients worldwide. Woolpert is an ENR Top 150 Global Design Firm, has earned six straight Great Place to Work certifications and actively nurtures a culture of growth, inclusion, diversity and respect. Founded in 1911 in Dayton, Ohio, Woolpert has been America's fastest-growing AEG firm since 2015. The firm has 1,900 employees and more than 60 offices on four continents. For more, visit woolpert.com.