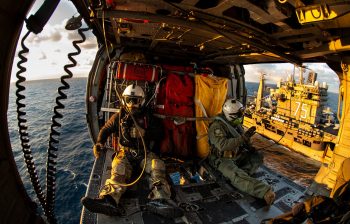 What Really Lies Beneath in the Ocean
Designers have a way of looking at a project and see the deep intricacies behind all that beauty they create that their clients take for granted. This type of vision is also true of the day-to-day work we all do, which often we all take for granted.
Like phone calls.
So when you realize 95 percent of the world's international phone and internet traffic carried through fiber optic cables is lying on the ocean floor, appreciation for your next phone call is raised. And when you add to that a fact that more than 90 percent of all trade is traveling by sea, and you can clearly see why officials of the Navy continue to emphasize prosperity and security of the United States is directly linked to a strong and ready Navy.
They keep our phone lines open.
In this photo, two of the people that protect these paths are shown. Naval Air Crewman (Helicopter) 2nd Class Matthew Watkins, left, from Phoenix, and Chief Naval Air Crewman (Helicopter) Eric Sotelo, from Hanover Park, Ill., both assigned to the "Dragonslayers" of Helicopter Sea Combat Squadron (HSC) 11, conduct a maritime patrol alongside the Nimitz-class aircraft carrier USS Harry S. Truman (CVN 75), Jan. 29, 2022.
The Harry S. Truman Carrier Strike Group is on a scheduled deployment in the U.S. Sixth Fleet area of operations in support of naval operations to maintain maritime stability and security, and defend U.S., allied and partner interests in Europe and Africa. (U.S. Navy photo by Mass Communication Specialist 3rd Class Tate Cardinal) 220129-N-PG226-1093.