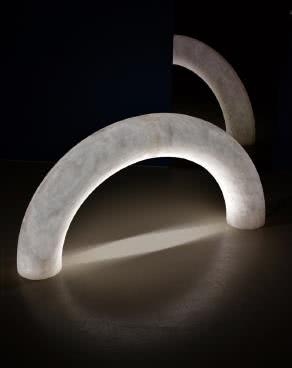 Specializing in alabaster luminaires and bespoke alabaster projects, Atelier Alain Ellouz announced the launch of its new line, INFINITY. Combining luminous sculptural and design-focused pieces, the INFINITY line will be displayed at the Philippe Hurel showroom during Paris Design Week, starting on September 6, 2019. The new AAE INFINITY line in was unveiled in NYC last May.
The INFINITY concept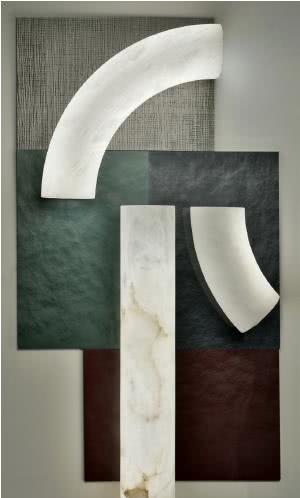 INFINITY is more than a luminaire and is comprised of objects that both sculptural and design focused. The pieces mix straight elements with quarters and eighths of circles. In addition to offering its own collection, Atelier Alain Ellouz invites talented designers to create their own versions of INFINITY with the help of their expertise.
INFINITY received the Best Architectural Lighting Award at the NYC Design Awards in May. The INFINITY 08V was a vertical suspension depicting the mathematical sign from which it takes its name. Comprised of alabaster quarter circles, INFINITY was presented as a luminous sculpture that showcased a new technical achievement by Atelier Alain Ellouz. To date, four pieces make up the INFINITY Design collection, which were presented at the Philippe Hurel showroom.
Designed with a clear contemporary style in mind, simultaneously simple and understated, this collection of table lamps marks a turning point for the Atelier, which for the first time incorporates a direct light in addition to a backlight.
Creating a new lighting space, the Elementary, Cozy, Fantasy and Curiosity luminaires are designed to be playful and easy to install. The Atelier Alain Ellouz team of designers, reinforced by the arrival of three new talents, confirms the company's desire to make its mark and become a key player in the world of design.
_______________
About Atelier Alain Ellouz

Atelier Alain Ellouz is a creative art studio specializing in two exceptional materials: alabaster and quartz. True artisans with stone, the Atelier Alain Ellouz team creates lighting, furniture, and custom projects in collaboration with the greatest designers in the world. Between pure design and organic forms, Atelier Alain Ellouz translates the extraordinary richness of alabaster and quartz into an undeniable ode to nature. Founded in 2006 by Alain Ellouz, Atelier Alain Ellouz is now a leader in the world of backlit alabaster. Atelier Alain Ellouz collaborates with designers such as Peter Marino, Philippe Starck, Estates Wainbridge, Stéphanie Coutas, Jean-Marc Mouchet, Les Héritiers and Damien Langlois Meurinne and carries out prestigious projects for luxury brands like Chaumet, Van Cleef & Arpels, Guerlain, and Dior.
For more information, contact: Bárbara Vélez AAE barbarav@atelieralainellouz.com