2022 Top 3 Bathroom Design Trends
This blog was contributed by Duravit and Ceramics of Italy.
The global pandemic has shifted the concept of home and the importance of hygiene and technology across multiple high-use spaces. As we look to 2022 we are hearing from designers and the industry that the bathroom is a space where much attention will be placed. From renovation trends to creating a spa-like experience at home — inspired by luxury hotel bathroom experiences — to an increased importance placed on hygiene and smart technology, we are delighted to share some insights from Duravit and Ceramics of Italy for 2022 bathroom trends.
Trend #1: Savvy Smart Technology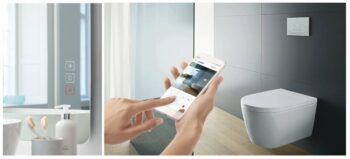 While Smart Technology has been gaining traction for a variety of in-home applications, technology in the bath is trending for 2022. The integration or addition of technology that aids in the user experience, ultimately heightens wellness practices in the intimate and rejuvenating space that is the bathroom. From Duravit, technology abounds from touchless mart mirror solutions with light adjustments based on light temperature (warm to cool) to the popular collection of SensoWash shower-toilets, which are available in a number of models featuring heated seat functionality, bidet functions for heightened hygiene and even a paired smart phone app for user profiles.
Commenting on 2022 trends across the kitchen & bath space, NKBA CEO Bill Darcy says, "consumers are more eager to embrace new technologies, innovative ways to provide multi-functional options to maximize their space." (NKBA Design Trends 2022: Millennials Flexing Their Muscles).
Trend #2: Heightened Hygiene

It is safe to say that the general public is more hygiene conscious as a result of the collective global experience of the pandemic. When updating or renovating a bathroom, a top priority designers are calling out is hygiene-forward and well designed fixtures and surfaces. To this end, in a recent interview, Duravit Designer Cecilie Manz commented: "Everything should be hygienic and low maintenance [in the bathroom]…I want the materials, colors and overall ambiance to exude a sense of well being." To be sure, hygiene-forward solutions definitely add to the wellness potentials of a bathroom.
Ceramic, as a material, is inherently hygienic as its surface naturally inhibits bacterial growth. Both Duravit and Ceramics of Italy tile manufacturers offer a variety of products to heighten hygiene in the bathroom. A highlight from Duravit is the brand's patented HygieneGlaze technology, which is an added glaze to the inner bowl surface of toilets, killing 90% of bacteria after six hours and 99.999% after 24 hours.
Trend #3: A Return to Nature in Design, We have the Blues for Green and We're Wild for Wood

As biophilic design continues to dominate trends around the home, we are continuing to see its influence in the bathroom. Warmer, natural hues as well as shades of green and blue are expected to make a big impact on 2022 bathroom designs. Dovetailing the feelings of romanticism at Cersaie this year, the overwhelmingly warm color palette from ceramic tiles speaks to these color trends. Hues of green add a soothing and organic effect to any bathroom interior, while natural wood tone finishes available across Duravit vanities and bathroom furniture bring a natural calm. Natural wood veneers and organic colors that reference the earth (green) and the sky (blue) translate notions of biophilic design ideology while adding aesthetically pleasing tactile and visual touch points in the bath. From sage to mint greens and sky blues to almonds and light oak browns, colors are a defining design element for articulating a natural-focused bathroom.
About Duravit 
Founded in 1817 in Hornberg in the Black Forest, Duravit AG is today a  leading international manufacturer of designer bathrooms. The company  is active in more than 130 countries worldwide and stands for  innovation in the fields of signature design, comfort-enhancing  technology and premium quality. In cooperation with high-profile  international designers, such as Philippe Starck, sieger design, Kurt  Merki Jr., Christian Werner, Matteo Thun and Cecilie Manz, the company  develops unique bathrooms that enhance quality of life for users on a  sustained basis. Duravit's product portfolio comprises sanitary  ceramics, bathroom furniture, bathtubs and shower trays, wellness  systems, shower-toilets, tap fittings and accessories as well as  installation systems. Duravit USA, Inc. headquarters are based in  Duluth, GA.
About Ceramics of Italy
Ceramica.info is the official web portal set up by the Italian ceramic industry to communicate with market players the world over. The Italian ceramic industry consists of more than 280 companies located throughout the country along with about another 16 operating outside Italy but owned by Italian groups. The industry has a total turnover of more than 6.5 billion euros and employs a workforce of 27,500 people, with an high inclination for exports and productive and commercial internationalization.The individual segments making up the industry are ceramic tiles, ceramic sanitaryware, tableware, refractory materials and brick industry all of which are affiliated to the Italian employers' federation Confindustria.