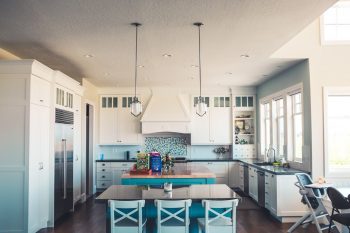 5 Simple Ways to Transform Your Kitchen into a Haven of Serenity
This blog was contributed by Wren Kitchens.
From organization to textile tips, your kitchen will ooze a sense of calm.
The kitchen is arguably the busiest room in the house. A room which facilitates mealtimes for the entire family, as well as its ability to host and entertain, it can quickly become a noisy and disorganized space, leaving your feng-shui out of sorts.
To help return your kitchen to its more desirable state of peace and reflection, Wren Kitchens has provided their top tips on how to create a calming kitchen space – a perfect place to come home to after a long day at work.
Level up your organization
Starting with your cabinets, remove all your items and give each shelf a wipe down. Whilst doing this, check the items on the shelves to see whether any are out of date to throw expired items in the bin, or if any are in-date and can be donated.
Once you've done this with your cabinets and cupboards, move on to your drawers, fridge, and freezer. When tidying your drawers, purchase cutlery dividers to maintain tidiness and organization.
Invest in plate and pan lid racks so that you can see all your cooking equipment without stacking them on top of one another. Finally, add air-tight jars to your kitchen which you can use for rice, pastas, and cereals for added levels of organization.
Choose calming colors
Stick to color tones which give off a calm and fresh space. Try to increase the amount of natural light flowing into your kitchen space which will bounce off your kitchen cabinets and flooring.
For a kitchen aiming to nail a minimal and calming presence, choose colors such as Pebble, Fossil Gray, Olive, China Blue, and Sea Foam. Match these with a slightly contrasting backsplash which matches your light fittings, sink tap, and cupboard handles to tie in the rest of the kitchen for the ultimate serenity.
Bring the outside in
There's nothing better than reveling in nature. For those who love the outdoors, bring it into your home to encourage a new calming atmosphere and mindset. Plants provide calming effects to your room and can purify the air, prevent mildew formation, and bring positive energy to your kitchen. Match your outdoor vibe with the right colors including soft greens, yellows, and browns for the perfect seasonal feel.
Set a natural vibe
It's easy to bring natural elements into your kitchen space by including timber tables, light-woven tablecloths, and stone vases. A natural vibe adds order and calm to your space, so pair your furnishings with Scandi-inspired kitchen designs which will elevate your color scheme whilst giving your room a sense of purpose.
Get rid of the excess
For a calm and clean space, the last thing you need is a cluttered countertop. Rid your countertops of any pots and pans and place them where they belong, then wipe down your surfaces and revel in the fresh space you've now created. For a nice added touch, place flowers in a color-matching vase to your space for a touch of simple style.
About Wren Kitchens
Wren Kitchens is Europe's number one kitchen retail specialist and has supplied kitchens worth more than $1.31 bn (£1 bn) in the last two years alone. Launched in 2009, Wren Kitchens is a family business, and it manufactures its UK kitchens in its three manufacturing and assembling facilities. It has 101 showrooms and delivers fully built cabinets, with doors, drawers and wire work pre-installed and delivered by Wren's award-winning fleet of trucks. In 2020, for the first time the business expanded internationally and opened its first showroom in Milford, Connecticut, which was crowned America's biggest kitchen showroom at 31,464 sq. ft. Wren makes every one of its kitchens for the US market at its state-of-the-art 252,000 sq. ft. manufacturing facility in Wilkes-Barre, Pennsylvania.