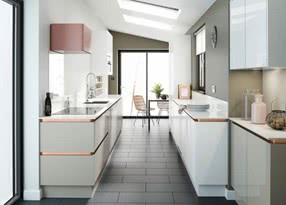 6 Ways to Make the Most Out of Your Small Kitchen
This blog was contributed by Darren Watts, Design Director at Wren Kitchens.
From simplifying color schemes to prioritizing appliances, these hacks will help you transform your small space into a beautiful compact kitchen.
We can all agree, clutter and chaos are two things you do not want in your kitchen space. With Google search trends of 'kitchen space savers' increasing by 130%[[1]] in the past 12 months, utilizing small spaces is becoming increasingly more popular.
If you're struggling for space in your kitchen, Wren Kitchens Design Director, Darren Watts, has revealed his top 6 tips for making the most out of your small kitchen space.
1. Prioritize appliances

There are many different kitchen appliances to choose from, so it's important to prioritize and make a decision about what you really need. Many kitchen appliances take up a reasonable amount of space, so if you're wanting a big fridge with lots of storage space, then you might have to sacrifice room elsewhere in your kitchen.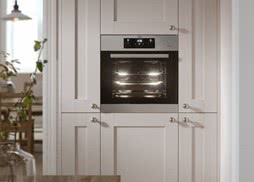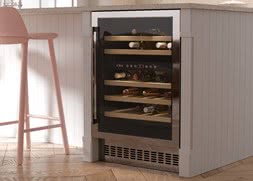 Alternatively, you should consider integrated appliances as they are a great way of saving space whilst keeping your kitchen looking sophisticated and stylish.
2. Don't create clutter
Storage is your best friend when it comes to controlling clutter. To maximize space, you want to minimize mess – having an organized storage system within your kitchen can help with this.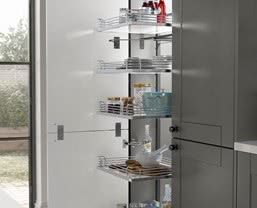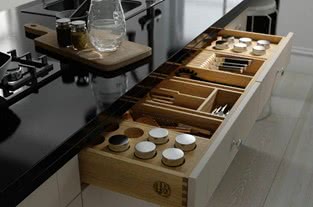 Pull-out organizers and cutlery inserts are both ways in which you can control clutter within your kitchen. They are more than worth the investment when perfecting the space in a small kitchen.
3. Keep your color scheme simple
Another great way of enhancing your kitchen space is to control the color scheme. Keep it simple and use color palettes such as bright whites, soft greys and blush nudes. Neutral colors such as these naturally reflect the light and make even the smallest rooms feel bigger.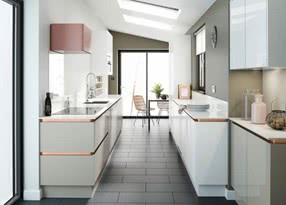 When choosing your kitchen color scheme, make sure it complements both your worktops and appliances, and avoid clashes.
4. Don't skimp on lighting
Similar to the color scheme of your kitchen, lighting can have a huge impact on a room. Try to light up your kitchen the best you can if you want to make the space feel bigger, as the more light, the bigger the space will feel. There are plenty of different lighting options to choose from to enhance your space, including atmospheric feature lighting and integrated spotlights.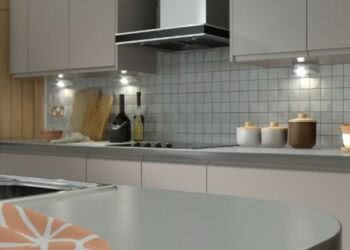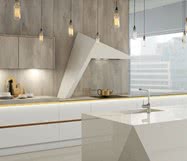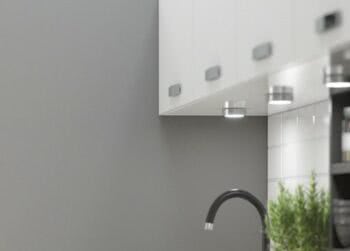 5. Make a statement
The devils in the detail! When designing your kitchen, why not choose a strong patterned floor? These sorts of features add the "wow" factor to your kitchen as well as an impact on how big the room feels.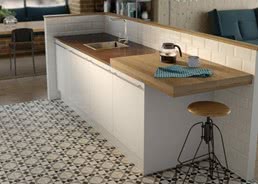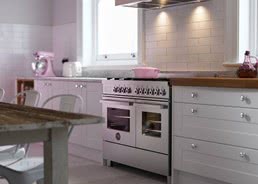 If you're looking for something more subtle, there are endless amounts of statement features you can choose from, like eye-catching colored toasters or even a retro-inspired radio. These will add heaps of personality to your kitchen when done right (and sparingly!)
6. Don't waste space
If space is something you're lacking, it goes without saying… don't waste it! Being creative with your kitchen can do huge favors when it comes to making more space. For example, if you have corners on your kitchen worktops that aren't being used, why not turn them into storage space?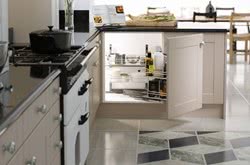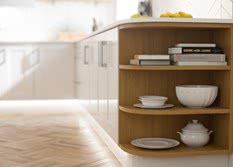 You should also use your wall space wisely. Consider hanging your favorite crockery pieces on the wall, which can create a stylish feature to your kitchen and it's great for saving space.
[1] Google Trends data
About Wren Kitchens
Wren Kitchens is Europe's number one kitchen retail specialist and has supplied kitchens worth more than $1.31 bn (£1 bn) in the last two years alone. Launched in 2009, Wren Kitchens is a family business, and it manufactures its UK kitchens in its three manufacturing and assembling facilities. It has 101 showrooms and delivers fully built cabinets, with doors, drawers and wire work pre-installed and delivered by Wren's award-winning fleet of trucks. In 2020, for the first time the business expanded internationally and opened its first showroom in Milford, Connecticut, which was crowned America's biggest kitchen showroom at 31,464 sq. ft.
For more information, visit: https://www.wrenkitchens.com/us/