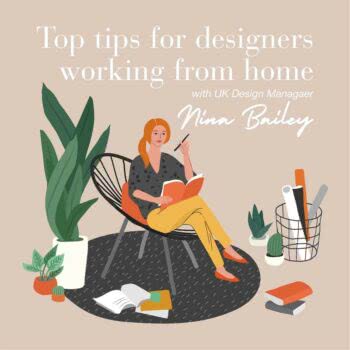 7 Tips to Create an Inspirational Home Office
Formica Group Ideas for Designers
With the trend for working from home looking set to stay, creating a comfortable home office space has become a priority on a global scale. Formica Group's Design Manager, Nina Bailey, is a working from home veteran and we asked her what her top tips were for creating a motivational and inspirational space to work from. Here's what she had to say…
1. Change Things Up
Rearrange the furniture in your spare room or living area to create a new home office environment. Changing the room around can give you a fresh outlook, perhaps even putting your desk closer to the window so that you can look up to see nature and the outside world.
2. Go Green
Gather your houseplants and arrange them close to you, always keeping greenery nearby. The scent and visual impact of nature really supports our wellbeing and can help us to focus our minds in these distracting times.
3. Let It Burn
Have a burning candle close, the smell of its aroma and the natural burning flame is calming and helps relieve stress.
4. Shine In
Natural light is key, as a designer I am always working with samples and colours, so for me the perfect natural light is neutral North facing. If you are a designer too I would recommend this type of light. If you don't have access to that, then any natural light is always better than artificial.
5. Out of Sight, Out of Mind
Your surroundings are important when you are working from home. There is nothing worse than being crowded by clutter and laundry, so even if there is mess around you and you don't have time to deal with it, put it out of sight of your working space so not to distract you and take over the space.
6. Make Your Mark
Add your own touch, as one of the best things about working from home is that you have all of your favorite items and belongings with you at all times. Why not use your teapot and special cup for drinking tea? Surround yourself with items that inspire you and maybe even rehang some pictures to make sure that your favorite is in view.
7. Power of Color
Color can have a huge impact on our work. Blue objects around you can help to keep you calm and focused, while yellows can help boost creativity, perhaps you could even pop into the garden and pick yourself some daffodils to keep your creativity flowing.
While you're working from home, Formica Group's team are always on hand to help, and their website offers a range of online resources such as the ability to download décor swatches for mood boards, brochures, technical documents and more! Discover a wide range of colors, woods, patterns and true-to-scale designs available in a variety of finishes, grades and thicknesses in the comfort of your own home at formica.com.
Formica Group globally leads the industry in the design, manufacture and distribution of innovatice surfacing products for commercial and residential applications
Formica® laminate is the 'original', with over 100 years of design and product innovation and manufacturing experience. Durable, easy to clean and resistant to impact, heat and scratches, Formica laminate requires minimal maintenance. Resistant to humidity, it can be also steam cleaned or disinfected with no adverse effects. Typical applications include wall panelling, doors, cubicles, furniture, counter tops and more.
Products include Formica® High Pressure Laminate (HPL), Formica® Compact with its solid laminate core, ColorCore® solid through colour laminate, ColorCore® Compact with a colour matched solid core,  DecoMetal® incorporating real metal foils, and specialist Younique® by Formica Group digital and screen print service. For surfacing with anti-fingerprint and anti-marking properties there is Formica Infiniti® and for exterior applications VIVIX® architectural panels by Formica Group and high performing weatherboard solution VIVIX® Lap has been introduced.
Formica® Laminate and DecoMetal products are GREENGUARD certified; the premier mark for low-emitting products. All of Formica Group's European manufacturing sites and distribution centres received accreditation by the internationally-recognised Forest Stewardship Council (FSC) Certified laminates from leading accreditation body, BM TRADA.
Formica Group  is a global group of companies operating worldwide. In Europe Formica Group has plants in the UK, North Shields and Newton Aycliffe; Spain, Valencia; and Finland, Kolho.
Please Note: Formica, the Formica anvil device, DecoMetal, ColorCore, Formica Infiniti, Younique and VIVIX are registered trademarks of The Diller Corporation.