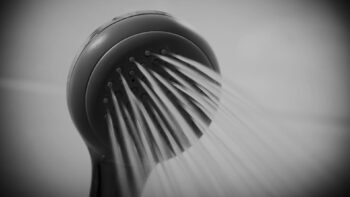 ADA Shower Heads – You're in Control
The ability to rely on consistent water temperature, pressure and reach is essential for an enjoyable and relaxing shower experience. This applies even more to people with limited mobility, who do not always have the luxury of easily adjusting the shower head or controls. The Americans With Disabilities Act (ADA) 2010 Standards for Accessible Design specifies requirements that shower heads must meet to be considered "ADA-compliant." These guidelines, given in ADA Section 607.6, are as follows:
The shower spray unit must have a hose that is 59" long at minimum. This makes meeting mobility needs possible for a wide range of users.
The shower spray unit should be able to be used as both a fixed-position shower head as well as a hand-held shower.
The shower head (if height is adjustable) can be mounted on a vertical bar, but the shower head and vertical bar should not obstruct a user's reach to any grab bars that may also be installed.
The shower spray unit water temperature should not exceed 120°F, and the unit should include an on/off control and a non-positive shutoff.
ADA Section 607.6 also makes an advisory that water pressure in hand-held units should supply equivalent water pressure to fixed shower spray units.
Meeting ADA guidelines for shower head installation helps ensure that users with a wide variety of needs have a comfortable and safe experience.
Often when specifying shower heads for ADA restrooms, the wording is general such as "provide ADA compliant shower head." They are most often specified under the Plumbing Division. Sometimes the specifications state a specific manufacturer or manufacturer list. At this writing, there were 279 projects in ConstructConnect within the Plumbing Division that specified ADA "shower heads" and 388 for ADA "showerheads" for this year. Since some contain a specific manufacturer, the field has room for product manufacturers to become a basis of design or position their shower head as THE ones for ADA restrooms.
Manufacturers
Now that you are aware of some of the guidelines for installing ADA-compliant shower heads, here are some manufacturers that make ADA specific products:
American Standard. American Standard has a legacy spanning 140 years as a premier North American manufacturer of plumbing and building products. American Standard manufactures faucets, sinks, whirlpool tubs and many other high-performance fixtures for the kitchen and bath. See their selection of ADA-compliant shower heads, including the 3-Function Hand Shower with Pause Feature on their website.
Kohler. Since 1873, Kohler, located in Kohler, Wisconsin, has been a world-renowned manufacturer of plumbing products. See their selection of ADA-compliant shower heads, including the Awaken® G110 on their website.
Delta. Delta Faucet's solutions are inspired by putting customers and their needs first. Pairing thoughtful features and breathtaking designs, Delta is one of the leading innovators in the bathroom space, with plenty of selection for high-quality ADA-compliant solutions.
Moen. As a leading American brand, Moen offers a diverse selection of thoughtfully designed faucets for the kitchen and bath, as well as ADA-compliant bathroom faucets.
Chicago Faucets. Chicago Faucets has been America's leading manufacturer of commercial faucets for over a century. With unparalleled quality and attention to detail, Chicago Faucets' offerings, including the company's ADA faucets, are ideal for a variety of settings.
Grohe. Grohe products are made with the company's commitments to technology, design, quality, and sustainability at the forefront. The use of high-precision engineering results in products of unparalleled quality, including products in the ADA category.
Speakman. Speakman pioneered the invention of the modern shower head. Today the company is part of the Professional Plumbing Group and pursues innovation with a focus on performance and sustainability. Speakman produces a full line of well-designed, commercial-grade bath and showering products, as well as safety equipment including emergency showers and eye washes for commercial use. A selection of high-quality ADA-compliant solutions can be found on their website.
Symmons Industries. Symmons Industries is a manufacturer of commercial and residential plumbing products, producing a variety of durable, reliable and beautifully designed products for everything from private homes to five-star hotels. Beginning with the Temptrol® pressure-balancing, anti-scald shower valve, Symmons has a variety of ADA-compliant solutions.