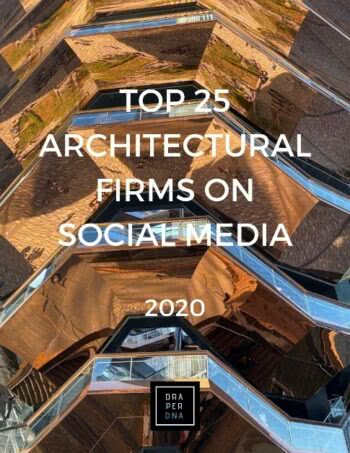 Architects, Social Media and You
Based in North Carolina, the experienced and talented team at Draper DNA specializes in targeted marketing efforts that help build business. Their recent 2020 Top 25 Architectural Firms on Social Media Report was coordinated by Draper DNA and made available to industry specialists.
The report focuses on the elements of social media that are most preferred for top architectural firms. Results show what the most socially engaged architectural firms are doing across a variety of channels including Facebook, Instagram, Twitter, Pinterest and YouTube.
"There are a number of surprises in this report," said Shawn Draper, lead strategist with Draper DNA. "We found that in many instances, firms with the biggest follower base had lower engagement rates. The leader in the number of posts measured with social media activity is Kohn Pedersen Fox Associates with 1,670 posts in six months. That's almost five times the number of media posts of other architectural firms surveyed in this report."
Other insights from the report include Instagram reigning as the preferred social media platform of the top performing architectural firms, while Pinterest and YouTube posts were basically non-existent for many firms.
"Instagram is the preferred social media platform of the top performing firms."
"By studying this report, architectural firms can gain a better understanding of where they are in the social media jungle as compared to their competitors," says Draper. "This type of report opens the doors for savvy firms to get aggressive socially in areas where there's an obvious opening for messages."
Shawn Draper, Lead Strategist at Draper DNA, was kind enough to share the report; however, you can read the key findings on their blog.
The company used Rival IQ software to analyze the media posts across the channels for 25 of the leading architectural firms over a six month period. They also used channel-specific rankings for some of the social media. They define "engagement" as measurable interaction on social posts, such as comments, favorites, retweets, etc.
Their report has an excellent chart listing the firms they studied, including the channels that they use.
This chart mirrors what Jim Nowakowski found in his KBIS research on social media and manufacturers . That is, his interviews with manufacturers at the KBIS and IBS shows revealed what they actually did on their social channels (see his blog KBIS and IBS 2020 – Companies that Count).
In addition, Nowakowski went a step further and asked Accountability Information Management, Inc. (AIM), a leading B2B research company, to take his findings and conduct a comprehensive report, The Truth About Social Media: Learnings from KBIS 2020 and IBS 2020. You can request a copy here.
For that report, AIM visited the 50+ manufacturer websites that Nowakowski interviewed and examined the social media links on those sites (similar to what Draper DNA did with their software tool). They studied whether the manufacturer had a Twitter account, and if so, how many had Twitter, Instagram, etc.
And they probed further: how many followers did that company have on each of the social media channels? And how many were the company following? Most important, did they link to the channels from their website?
From that AIM built benchmarks that enabled any manufacturer to compare their own social media performance.
It makes interesting comparisons to what Draper DNA found out about the architects!
For example, while Instagram was the social media channel used by most manufacturers (understandable as this show is heavily attended by designers), manufacturers were firing on many social cylinders to their audiences – and using all the social channels that people know and love.
Draper DNA's report gives lots of statistics and charts – but their blog on the topic contains this important insight compared to the AIM KBIS report: "Instagram is the preferred social media platform of the top performing firms. Whereas, Pinterest and YouTube, two powerful social media platforms are effectively ignored by architectural firms. Do you see an opportunity for leadership with big benefits here?"
This is almost identical to the findings of manufacturers. That means not only opportunity, but big opportunity since those channels are wide open for creating audiences and connections!
We'd like to hear your opinions! Please write to [email protected] with them! Thanks for reading.