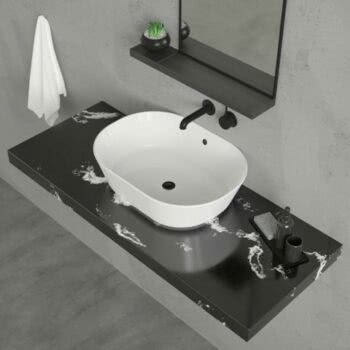 Cheviot's New Sink Series
Products designed for your clients and customers…
Cheviot Products is a leading supplier of bathroom fixtures to major bathroom distributors and wholesalers, and is a preferred brand specified by designers throughout the Midwest. Their new bathroom sink line is just what your customers have been looking for!
KB-Resource examined some of these products, but you can always get more information from Tom Hamilton, the Midwest Cheviot representative (847-358-6884, [email protected] ),or by going to the Cheviot website itself. Let's start with one of their top line vessels sinks, called the BOLD.
BOLD
The BOLD Vessel Sink (#1262) is modern, with a decorative flair. It has raised edges to keep water IN the sink, not on the floor. BOLD is a fireclay type of construction, which delivers outstanding beauty and practicality A fireclay sink, which is a type of ceramic sink, isn't carved. It's actually molded at very high temperatures. They are also limited many times in regards to color, styles, or finishes. Cheviot's BOLD for example, are gloss white, Matte White, Matte Gray, or Graphite.
Cheviot uses a fine powdered glass glaze ensuring a lifetime of beauty, durability, resistance to bacteria/microbes — something very important these days to everyone.
GEO 2
Cheviot's GEO 2 (shown on the upper left) is an elegant, organic design that's really practical. Check out its large bowl that extends toward the user for ease of use. No reaching or over-reaching on this design!  The GEO 2 #1285 is 21 ½ inches wide! They are beautiful…anything but ordinary. They get the conversation going when guests will use them, and they work with an endless options of vanities. GEO 2 saves a lot of space. GEO 2 shouts STYLE. They don't try to hide the sink in a counter. Instead, they make the sink the focal point in the room design, and with Cheviot, that focal point shouts  STYLE.
They also give designers flexibility. Product design has long been recognized by almost all firms as a key strategy to achieve success in today's competitive business environment. The a product can be designed with flexibility in mind (to meet a variety of situations in the field), the more successful it will be. No where is this more demonstrated than in Cheviot's GEO2.  They are compact, clean, and in a color that goes with everything and anything: white. And let's say you want to change 1285 for a 1284 after a time. No problem…flexibility is Cheviot's middle name. Like most manufacturers, when you order a sink you need to order the drain separately. In this case (as in the BOLD), that drain would be Cheviot's #5297 Umbrella Drain Assembly.
VALARTE
Sometimes designers face decisions that seemingly are difficult to overcome. For example, designers may insist on style, but the client wants storage and is willing to sacrifice style. Or a customer may want more floor space than what the design shows. There are myriad choices all that demand space and more space.
In handling such situations, the most flexible the product, the attractive it will be to satisfying both sides. This is what Valarte from Cheviot accomplishes. Valarte is basically a cross between wall mount and pedestal and it solves a lot of those design issues that are seemingly unsolvable.
A Valarte console sink has a more open appearance than a pedestal design. This physical openness (which allows for storage underneath and, in some cases, for wheelchair accessibility), makes it an excellent choice for those aging in place applications. Distinctive, fashionable, Valarte will give you more counter space than a pedestal design if that is important as well. Cheviot offers three styles of Valarte console sinks.  The #351, the #352 which is a little wider, and the #353 which is the widest at 39 1/8".
CHANNEL JUMPING
Products like these Cheviot sinks represent opportunities for distributors and showrooms, as well as architects and designers. One of the things all these professions know is that the earlier you get involved in a project, the more likely you are to achieve success in a specifications and eventual product sale.
Called "channel jumping," the technique involves going "outside your lane" to help give you an edge when you're working on projects. For example, an architect typically specifies a product for a project, but doesn't necessarily get involved in the installation details, which are typically handled by a contractor. Likewise, a distributor usually supplies products to a contractor's quote, and rarely is involved in the actual planning stage of the project.
But when a distributor gets involved in the planning stage, or an architect jumps into the installation stage details, it's called Channel Jumping. Especially distributors, who often find themselves involved AFTER the design and planning stages of a project, Channel Jumping as a technique gets you involved earlier in the game to showcase your knowledge.
And that's important because distributors often have a lot of untapped information about the performance of products being specified!  In fact, architects also have such knowledge, so getting involved during installation isn't a bad thing (to avoid callbacks for example or unforeseen production details).
This article will show you some of the techniques of channel jumping, and it is available upon request. Simply go to www.interlinegroup.com and enter the Speakers Room. The link to download the Securing Your Niche article is in Jim Nowakowski's published articles.
Marketing Representatives is a rep/distributor firm that handles sales responsibilities along with advertising and communications tactics to promote, sell and engage client customers and potential customers in purchasing products and services.  They generate a positive awareness for clients' businesses and products, as well as develop the path to purchase.
For more information on Cheviot products, contact: Tom Hamilton, the Midwest Cheviot representative (847-358-6884, [email protected] ).
About Cheviot Products, Inc.
Founded in 1984, Cheviot Products, Inc. has grown to become a leading global supplier of high-quality bath products such as cast-iron bathtubs, clawfoot bathtubs, bathroom sinks, bathroom toilets, fine vitreous china bathroom fixtures, waste and overflow fixtures, bath faucets and showerheads. Cheviot caters to designer bathroom distributors and wholesalers, supplying products that are meticulously crafted in Europe, with a selection that features a wide variety of traditional and contemporary designs. Based in Port Coquitlam, BC, Canada, Cheviot maintains supply relationships on five continents. For more information, or to inquire about products, please call 604-464-8966 or visit www.cheviotproducts.com.