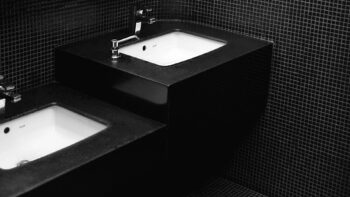 Everything and the Bathroom Sink
Sinks and lavatories can present special challenges when designing ADA restrooms. In many cases, sinks are difficult to navigate and reach for people with limited mobility. Builders and designers must consider how the sink height and depth contributes to easy navigation, the amount of floor space around the sink, the accessibility of paper towels and dispensers, the type of faucet and preventing contact with pipes and the water supply. Here, we will review the major standards that sinks and lavatories must meet in order to be considered compliant by the 2010 Standards for Accessible Design. These standards are as follows:
Be sure to leave plenty of clean floor space around the sink area. Position for a forward approach with plenty of knee and toe clearance. More detailed guidelines with instructions for a variety of different dimensions can be found in ADA standards 305 and 306. EXCEPTION: For sinks used primarily by children ages 6 to 12, a knee clearance of 24" minimum above the floor is permitted for sinks and lavatories whether the counter surface is 31" above the floor.
Install sinks and lavatories with the front or highest part of the rim or counter surface a maximum of 34" above the finished ground. EXCEPTION: Single, private-use restroom lavatories do not have to comply with this standard. For residential kitchens, adjustable height sinks (29" – 36") are permitted if plumbing rough-in permits drain connections for sinks mounted at 29".
Locate soap and towel dispensers so they are conveniently reached/accessed. Comply with the reach ranges specified in ADA Standard 308 (high forward reach 48" above ground, low forward reach 15" above ground). If the reach is obstructed, the high forward reach should be 48" maximum with a reach depth of 20" maximum).
Faucets must comply with ADA Standard 309 (5 lbs. of force to operate, no tight grasping, twisting, or pinching of the wrist). Hand-operated metering faucets must remain open for at least 10 seconds.
Prevent contact with water supply and drainpipes under the sink. Ensure that there is no contact with sharp or abrasive surfaces.
Often when specifying sinks for ADA restrooms, the wording is general such as "provide ADA compliant sink." ADA sinks are most often specified under the Plumbing Division. Sometimes the specifications state a specific manufacturer or manufacturer list. At this writing, there were 1,708 projects within the Plumbing Division that specified ADA sinks for this year in ConstructConnect. Although many contain a specific manufacturer(s), the there is room for product manufacturers to become a basis of design or position their sink as THE ones for ADA restrooms.
Manufacturers
Now that you are aware of the standards surrounding ADA-compliant bathroom sinks, here are some manufacturers that make high-quality products that will meet your needs:
Elkay. Founded in 1920, Elkay offers  high-quality plumbing for home and commercial applications. From kitchen sinks and faucets to bottle filling stations, Elkay products are right where you are, right when you need them. See Elkay's ADA-compliant sinks, including the CuVerro Antimicrobial Copper Single Bowl Drop-in Bathroom Sink on their website, plus these popular ADA when install properly sinks:
American Standard. American Standard has a legacy spanning 140 years as a premier North American manufacturer of plumbing and building products. American Standards manufactures faucets, sinks, whirlpool tubs and many other high-performance fixtures for the kitchen and bath, including ADA-compliant sinks. See American Standard's full range of ADA-compliant sinks, including:
Just Manufacturing. Since 1933 Just Manufacturing has become the industry standard for designing and producing quality grade plumbing products and fixtures. View their selection of ADA-compliant sinks, including the OLR-ADA-17521 on their website.
UCIF-ADA-14 Undermount Bathroom Lavatory Sink, Stainless Steel ADA 16″ x 5.25″
UOIF-ADA-1521-A Bathroom Lavatory Sink, Stainless Steel ADA 21.5″ x 15.5″ x 5.5″ ADA
CIR-10 Double Bowl Drop Bathroom Lavatory Sink, Stainless Steel, ADA
Kohler: Since 1873, Kohler, located in Kohler, Wisconsin, has been a world-renowned manufacturer of plumbing products. See their selection of ADA-compliant sinks when installed to reguations, including the Vox® Square Vessel Bathroom Sink on their website, plus these:
ZURN. Zurn has been a leading company in providing innovative water solutions since 1900. Zurn aspires to protect human health and the environment and is committed to offering safe and efficient products like these:
Mansfield. Mansfield manufactures ADA-compliant bathroom products that provide reliable performance, beautiful designs, affordable prices, and are made in the USA, like these:
TOTO. TOTO is a distinguished manufacturer with nearly a century of experience in producing innovative plumbing products. TOTO's products, including their selection of ADA bathroom products, offer customers high quality and creative solutions. A few of their large selection listed below:
Scarabeo. Scarabeo was founded in 1974 in Italy and has manufactured elegant and functional washbasins ever since. Scarabeo's products are created by combining traditional ceramic processing techniques with high-tech machinery. A few products:
Icera. Icera was founded in Southern California in 1987 and has sought to improve quality of life through luxury bathroom design ever since. Icera embraces innovation in design and technology to deliver industry-leading products for a unified bathroom experience.
Whitehall Manufacturing. As a leading manufacturer of toilets, surgical scrub sinks, and physical therapy/sports medicine products, Whitehall is experienced in providing solutions for the health care and rehabilitation industries. Whitehall's products, including its ADA-compliant products, are ideal for patient care and rehabilitation.