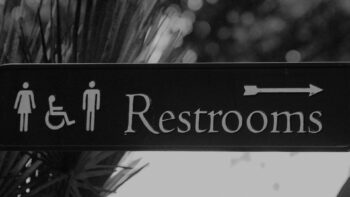 Follow the Signs
Signs communicate important messages in a way that's visual, immediate, and precisely targeted. They have become common knowledge and a necessary communication tool on the road and in public spaces.
While signs are just one of the many building features that need to be ADA-compliant, it is still necessary to communicate the message effectively. Yet, when it comes to specifying building signage, they are practically non-existent (only 4 projects this year within the Plumbing Division specified ADA signage in ConstructConnect). And when they are specified it is in general terms such as "provide ADA compliant signage."
The requirements and specifications for design, content, and placement of ADA-compliant architectural signs are found in the 2010 ADA Standards for Accessible Design, Section 703.
Everything about ADA-compliant signage comes down to one thing: clarity. All the criteria are geared towards making signage as easy to read and understand as possible.
ADA-compliant signs must be mounted outside of interior rooms or spaces that are permanent such as restrooms and/or will serve the same function for more than 7 days.
Signs that are ADA-compliant will always meet the following specifications:
The finish of the entire sign MUST be non-glare.
Contrast between the colors of the background and the character/pictograms.
Signs using pictograms MUST have a background a minimum of 6" in height.
If there is text/description with a pictogram, it must be BELOW the image.
Permanent room signs MUST be all upper case.
Only select fonts can be used.
Braille on permanent room signs MUST be raised at least 1/32" and use grade II Braille.
Signs must be mounted at LEAST 48" above the ground, but no more than 60" above the ground.
If a door swings out, an interior sign MUST be NEXT to the door on the latch side.
If the door swings inward, you can place the sign on the door, as long as it meets certain requirements. For example, the door has to automatically close without a "hold open" button.
If you hang a sign overhead, it needs to be at least 80" off the floor.
One common misconception is that ADA sign means Braille sign. While not all ADA-compliant signs are required to have Braille or even pictograms, Braille signage is an important part of restroom ADA compliance.
Braille, raised and visual characters, and pictogram requirements vary based on a sign's purpose. For example, changeable and temporary signs, such as directories, are exempt from ADA regulations. If a sign has raised characters or Braille, it should go on the same side of the door as the latch. The characters on the sign should be no less than 48" off the floor, and no higher than 60".
| | |
| --- | --- |
| Braille Dimensions | Measurement Range (inches) |
| Dot height | 0.025 – 0.037 |
| Dot base diameter | 0.059 – 0.063 |
| Distance between two dot in the same cell | 0.090 – 0.100 |
| Distance between corresponding dots in adjacent cells | 0.241 – 0.300 |
| Distance between corresponding dots from one cell directly below | 0.395 – 0.400 |
Accent Signage Quick reference guide to ADA signage is a helpful resource for ADA signage, which includes an Easy Reference Chart For USA ADA Compliant Signage (2010 Standards) https://www.accentsignage.com/wp-content/uploads/ADA-Quick-Reference.pdf.
Manufacturers
Although there are many manufacturers of signage for ADA restrooms, here are a few to consider.
ADA Sign Depot. The ADA Sign Depot manufactures high quality ADA bathroom signs in an array of materials and colors, including our beautiful line of Brushed Aluminum Restroom Signs. Their restroom/bathroom signs are designed to be both ADA Compliant for all States, and Title 24 Compliant for California.
ADA Sign Factory. The ADA Sign Factory specializes in injection-molded and CAD-cut acrylic building signs that meet the guidelines put forth under the Americans with Disabilities Act. Our signs are vandal-proof and feature designs that are easy to read and clear to understand. The ADA Sign Factory offers an extensive molded sign selection. They manufacture and sell five stock colors of ADA signs for restrooms, exits, stairs, handicapped accessible areas, and all other building navigation and door label needs.
ADA Central Signs. ADA Central is a seller of top-quality ADA-compliant signs. Their goal is to help businesses, institutions and agencies understand the rules and provide them with fully compliant ADA signs.
APCO. APCO has been an innovative leader in the architectural sign and wayfinding industry since 1966, with a focus on modular interior and exterior sign systems. With headquarters in Atlanta, APCO develops products that are highly customizable, yet retain the benefits of pre-engineered systems. Find out more about APCO ADA signs on their website.
South Water Signs. South Water Signs in Elmhurst, IL is a full-service, turnkey signage provider. They bring proven capabilities and credentials to meet the full spectrum of need — from audits and surveys to design drawings and permitting, manufacturing to installation and maintenance. Find out more their ADA signs on their website.
Corporate Identification 3rd Dimension (ID3). ID3 Logos specializes in custom signs and nameplate design. ID3 Logos offers Braille signage that is ADA compliant. Find out more on their website.