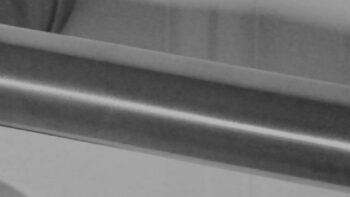 Get a Grip On Grab Bars for Showers
Grab bars enable an individual to maintain balance, reduce fatigue while standing, rising, or maneuvering, or in some cases grabbing onto in case of a slip or fall. Caregivers can also use a grab bar to assist with patient transfer.
The words "grab bar" are used multiple times in the 2010 ADA Standards for Accessible Design, September 15, 2010 Plumbing Element and Facilities. Grab bars for toilets (water closets) are referenced in Plumbing Elements and Facilities Section 609.
Specifications for Shower Grab Bars are in 609 Grab Bars and specifically in 608 Shower Compartments and in 608.3 Grab Bars, 608.3.1 Transfer Type Shower Compartments, 608.3.2 Standard Roll-In Type Shower Compartments and in 608.3.3 Alternate Roll-In Type Shower Compartments.
Exceptions
Grab Bars not required for a single occupant accessed through a private office and not for common or public use, provided reinforcement has been installed in walls for future use. Grab bars in residential dwellings are not required, provided that reinforcement has been installed in walls. Both have to comply for future installation with 608.3.
The standards reference the size and clearance for grab bars for roll-in transfer, roll-in and alternate roll-in type shower compartments. Grab Bars are stated to have to comply with Standard 609 with exceptions noted above.
Types
Transfer Type Shower Compartments 608.3.1: Grab bars shall be provided across the control wall and back wall to a point 18" from the control wall.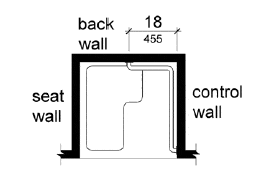 Standard Roll-in Type Shower Compartments 608.3.2: If a seat is provided, grab bars shall on the back wall and side wall opposite the seat. If no seat, grab bars on three walls and installed 6" from adjacent walls.

Alternate Roll-In Type Shower Compartments 608.3.3: Grab bars shall be provided on the back and the side wall farthest from the entry and not above the seat. Grab bars shall be installed 6" maximum from adjacent walls.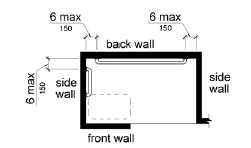 Grab Bar Mounting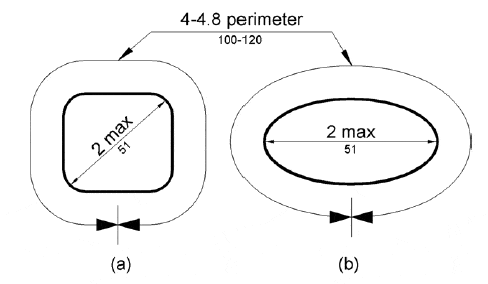 The standard mounting dimensions for circular and non-circular grab bars are 2" max. and should not rotate in their fittings and have a structural strength of 250 lbs. horizontally and vertically. The water closet grab bars should be installed 33" minimum and 36" maximum in a horizontal position above finished floor except for a child's use ages 3 to 12, 18" minimum and 27" maximum in section 604.9. The side wall grab bar is 42" min. and the rear wall grab bar is 36" min.
Most manufacturers of commercial restroom grab bars (including for ADA) have different configurations, mountings and finishes so it is the designer's choice. The requirements have to deal with slip resistance, height and length from the floor and the mounting dimensions. There were close to 300 projects with Grab Bars listed for ADA restrooms, and only a few had specific manufacturers. The remainder are open for bidding.
Often when specifying shower grab bars for ADA restrooms, the wording is general such as "provide ADA compliant grab bar." Surprisingly, ADA showers are most often specified under two divisions: Plumbing and Specialties. Sometimes the specifications state a specific manufacturer or manufacturer list. At this writing, there were 89 projects within the Plumbing Division and 37 projects within the Specialty Division that specified ADA shower grab bars for this year in ConstructConnect. Since most do not contain a specific manufacturer, the field is wide open for product manufacturers to become a basis of design or position their grab bars as THE ones for ADA restrooms.
Manufacturers
Although there are many manufacturers of grab bars for ADA restrooms, here are a few to consider.
Bobrick. Bobrick Washroom Equipment, Inc. Bobrick is a recognized name in well-designed, value-oriented restroom accessories and toilet partitions. Some of the world's more renowned companies and institutions rely on Bobrick Solutions to reinforce their brands, reduce long term operating costs, and position their organizations for the future. You will find a variety of grab bars when you search for "grab bars" on their website.
Here are some examples:
Brey-Krause. Brey-Krause manufactures a comprehensive line of quality commercial and industrial washroom accessories. Their products are used in new and existing commercial, industrial, and HUD facilities. A wide variety of styles, colors, materials, and finishes ensure appropriate application in hospitals, nursing homes, schools, office buildings, factories, airports, restaurants, prisons, hotels, health clubs, locker rooms and public restrooms. All products are manufactured in compliance with American Disabilities Act- (ADA) and ANSI requirements. Search for a series of ADA compliant grab bars on their website.
Here are some examples:
Moen. The #1 faucet brand in North America, Moen offers a diverse selection of thoughtfully designed kitchen and bath faucets, showerheads, accessories, bath safety products, garbage disposals and kitchen sinks for residential and commercial applications, each delivering the best possible combination of meaningful innovation, useful features, and lasting value. Moen commercial products incorporate smart design with advanced technology. To view the selection of grab bars visit their website.
Here are some examples:
Bradley Corporation. Bradley is one of the most complete and advanced manufacturers of commercial washrooms, and comprehensive solutions for emergency, safety, and industrial applications. Now in the fifth generation of the Mullet family their continued commitment includes treating customers and employees like family. To view the selection of ADA grab bars visit their website.
Here are some examples:
American Specialties Inc. (ASI). The ASI Group designs, engineers and manufactures fully integrated washroom accessories, partitions, lockers and visual display products from one source. ASI grab bars are made in compliance with ADA guidelines for strength requirements and are available in a series of eight designs in various lengths and mounting styles including antimicrobial.
Here is an example:
Ponte Giulio. Ponte Giulio focuses on comfort and safety solutions for bathrooms. They pioneered the use of BioCote's anti-microbial technology to reduce the levels of bacteria, mold and some viruses up to 99.9% on grab bars, shower seats and accessories. Ponte Giulio has a variety of ADA shower grab bars, for example, in stainless steel, antimicrobial, wall-to-floor and bariatric styles.
Here is an example:
Hewi. Hewi nylon grab bars are available for retrofit, remodeling, and new construction projects for both residential and commercial application. Their line of ADA approved Hewi products includes horizontal grab bars, lift up support rails, 2-sided shower grab rails, fold up grab bars, grab bars with hand shower holders and toilet grab bars in a variety of colors and configurations.
Tubular Specialties Manufacturing, Inc. (TSM). TSM is a worldwide supplier and manufacturer of grab bars and washroom accessories, offers a wide range of products for commercial construction projects including standard shower bars, vertical and wrap around bars and in-wall security bars. TSM grab bars are designed to meet and exceed ADAAG requirements and meet ADA compliance when installed to their guidelines.
Etac. Etac offers a wide range of solutions for patient transfer and vital solutions needed for everyday life including classic products for bathing and toilets. Etac's track record in functional, innovative and comfortable products includes a number of straight and angled shower bars.