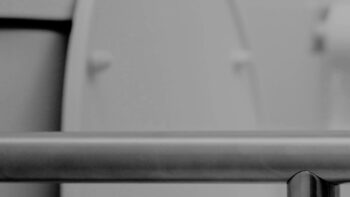 Get a Grip On Grab Bars for Water Closets
Grab bars enable an individual to maintain balance, reduce fatigue while standing, rising, or maneuvering, or in some cases grabbing onto in case of a slip or fall. Caregivers can also use a grab bar to assist with patient transfer.
The words "grab bar" are used multiple times in the 2010 ADA Standards for Accessible Design, September 15, 2010 Plumbing Element and Facilities. Grab bars for toilets (water closets) are referenced in Plumbing Elements and Facilities Section 609.
For Toilets (Water Closets)
Specifications for Grab Bars are in 609 for toilet and bathing facilities and in the cross section 609.2.1 circular cross sections and the 609.2.2 non-circular cross section, 609.3 Spacing, 609.4 Position of Grab Bars, 609.5 Surface Hazards, 609.6 Fittings, 609.7 Installation and 609.8 Structural Strength and in sections 604.5 Grab Bars for water closets and 604.1.5 (Sidewall) Grab Bars, 604.5.2 Rear Wall, 604.9 Water Closets and Toilet Compartments for Children's Use.
Advisory Notes
Advisory notes pertaining to grab bars are provided for informational purposes only and may not be mandatory. The notes have been added or revised based on comments or revisions to text. Advisory notes try to clarify the meaning of a requirement or provide recommendations for good practice.
Grab Bar Mounting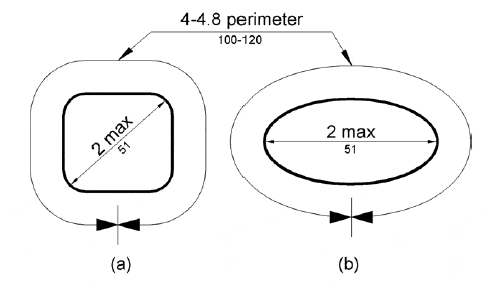 The standard mounting dimensions for circular and non-circular grab bars are 2" max. and should not rotate in their fittings and have a structural strength of 250 lbs. horizontally and vertically. The water closet grab bars should be installed 33" minimum and 36" maximum in a horizontal position above finished floor except for a child's use ages 3 to 12, 18" minimum and 27" maximum in section 604.9. The side wall grab bar is 42" minimum and the rear wall grab bar is 36" minimum.
Most manufacturers of commercial restroom grab bars (including for ADA) have different configurations, mountings and finishes so it is the designer's choice. The requirements have to deal with slip resistance, height and length from the floor and the mounting dimensions. There were close to 300 projects with Grab Bars listed for ADA restrooms, and only a few had specific manufacturers. The remainder are open for bidding.
Manufacturers
Although there are many manufacturers of grab bars for ADA restrooms, here are a few to consider.
Bobrick. Bobrick Washroom Equipment, Inc. Bobrick is a recognized name in well-designed, value-oriented restroom accessories and toilet partitions. Some of the world's more renowned companies and institutions rely on Bobrick solutions to reinforce their brands, reduce long term operating costs, and position their organizations for the future. You will find a variety of grab bars when you search for "grab bars" on their website.
Here are some examples:
Brey-Krause. Brey-Krause manufactures a comprehensive line of quality commercial and industrial washroom accessories. Their products are used in new and existing commercial, industrial, and HUD facilities. A wide variety of styles, colors, materials, and finishes ensure appropriate application in hospitals, nursing homes, schools, office buildings, factories, airports, restaurants, prisons, hotels, health clubs, locker rooms and public restrooms. All products are manufactured in compliance with American Disabilities Act- (ADA) and ANSI requirements. Search for a series of ADA compliant grab bars on their website.
Here are some examples:
Moen. The #1 faucet brand in North America, Moen offers a diverse selection of thoughtfully designed kitchen and bath faucets, showerheads, accessories, bath safety products, garbage disposals and kitchen sinks for residential and commercial applications, each delivering the best possible combination of meaningful innovation, useful features, and lasting value. Moen commercial products incorporate smart design with advanced technology. To view the selection of grab bars visit their website.
Here are some examples:
Bradley Corporation. Bradley is one of the most complete and advanced manufacturers of commercial washrooms, and comprehensive solutions for emergency, safety, and industrial applications. Now in the fifth generation of the Mullet family their continued commitment includes treating customers and employees like family. You will find 32 ADA compliant soap dispensers on their site including the new Verge ADA soap dispenser line. To view the selection of ADA grab bars visit their website.
Here are some examples:
HealthCraft Products. HealthCraft is a company dedicated to changing lives through functional home safety products. Their goal is to help enable individuals to live safely and comfortably in their homes as long as possible. HealthCraft has spent the last two decades designing and manufacturing innovative support products. HealthCraft has a select group of ADA compliant toilet grab bars.
Here are some examples:
Delta Products. The Delta® brand is more than just a faucet. It is a WaterSense® partner of the U.S. Environmental Protection Agency, Delta Faucet Company is a global organization offering kitchen and bath faucets, showerheads, tub and shower systems, toilets, grab bars and related accessories. It sells products in more than 53 countries. Delta has a selection of 24 ADA grab bars available.
Here are some examples:
Kingsway Group. Kingsway Group offers a wide range of ligature resistant washroom dispensers and grab bars to provide a solution to every requirement in secure facilities.  Their range of washroom accessories are ligature resistant by design and built to the highest quality to give you the best results. Each one of their ligature resistant washroom dispenser and grab bar products has been crafted through the feedback of customers. Kingsway Group has a selection of ADA anti-ligature grab bars for the most challenging behavioral health facilities.
Medline. Medline is the largest privately held manufacturer and distributor of medical supplies uniquely positioned to provide products, education and support across the continuum of care. Their ability to bring best practices from one care setting to another — from large healthcare systems and independent physician practices to home health patients and their families, is what sets them apart. Medline has a wide variety of ADA grab bars in white enamel and steel.
Here are some examples:
CSI Bathware. CSI Bathware is one of the largest bathtub and shower manufacturers in the USA! Their huge selection of high-quality, ADA compliant product such as grab bars, seats and shower accessories are designed with functionality and safety in mind and meet the needs of the everyday user and contractors alike. A wide variety of toilet grab bars from CSI are available in forms such as straight, boomerang, half circle.
Here are some examples:
Gatco®. From towel bars to mirrors, to shower curtain rods and countertop accessories, Gatco's quality and passion have made it the brand of choice for discerning homeowners and hospitality professionals for over 40 years.  Each product is created by Gatco's design team. Gatco's "full suite" approach allows contractors, designers, architects, and hotels to specify and coordinate virtually all finish hardware in the bathroom including ADA grab bars.
Here are some examples: