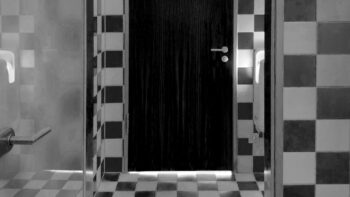 Get A Handle On It!
In the 2010 ADA Standards for Accessible Design readers are led to section 404.2.6 Doors In Series and Gates in Series and 404.2.7 Door and Gate Hardware.
Handles, pulls, latches, locks, and other operable parts on doors and gates shall comply with 309.4. Operable parts of such hardware shall be 34" minimum and 48" maximum above the finish floor or ground. Where sliding doors are in the fully open position, operating hardware shall be exposed and usable from both sides.
Specifically, door handles, pulls, latches, locks, and other operating devices on accessible doors must be easy to access and function appropriately without requiring tight grasping, pinching, or twisting of the wrist to operate.
The standard references 309 Operable Parts; section 309.4 Operation Operable parts will be operable with one hand and shall not require tight grasping, pinching, or twisting of the wrist. The force required to activate operable parts shall be 5 lbs. maximum.
These standards are the primary reference for ADA handles for bathroom as well other doors.
Advisories
"Advisory" notes are provided for informational purposes only and are not mandatory. The notes have been added or revised based on comments or revisions to text.
Advisory 404.2.7 Door and Gate Hardware. Door hardware that can be operated with a closed fist or a loose grip accommodates the greatest range of users. Hardware that requires simultaneous hand and finger movements require greater dexterity and coordination and is not recommended.
Exceptions
Existing locks shall be permitted in any location at existing glazed doors without stiles, existing overhead rolling doors or grilles, and similar existing doors or grilles that are designed with locks that are activated only at the top or bottom rail.
Access gates in barrier walls and fences protecting pools, spas, and hot tubs shall be permitted to have operable parts of the release of latch on self-latching devices at 54" maximum above the finish floor or ground provided the self-latching devices are not also self-locking devices and operated by means of a key, electronic opener, or integral combination lock.
Specification of door hardware and stall door hardware is usually referred to in general terms unless specific drawn plans include product recommendations.
Manufacturers
Although there are many manufacturers of door handles/hardware for ADA restrooms, here are a few to consider.
ASSA ABLOY. ASSA ABLOY Door Security Solutions is a division of ASSA ABLOY, the global leader in door opening solutions, dedicated to satisfying end-user needs for security, safety, and convenience.
Trimco. Trimco continues to be a trusted leader in developing products for the most demanding environments. Our expansive portfolio has many unique, patented solutions designed to address real life problems. Most of our products are manufactured in the USA to the highest quality standards while maintaining competitive prices.
Glynn Johnson. Known throughout the industry as the "overhead door holder specialist," Glynn-Johnson has made its name with state-of-the-art manufacturing and technology. Our portfolio also includes a full line of push/pull latches that are ideal for healthcare applications.
Here is an example:
Universal Hardware. Universal Hardware closers are a complete line of heavy duty commercial and residential door closers and door locks. Universal Hardware is dedicated to delivering a complete product line, consultation services, and service offering designed to serve the professional.
T-Concept Solutions. TCS is a provider of architectural glass door handles and pulls and is a family owned business that first rose to the forefront of the design industry in 2001.
First Choice Building Products. Leader In American Door Hardware Manufacturing. First Choice devices are featured in construction project throughout North America. 
OMNIA. Since 1964, OMNIA Industries has supplied the industry with architectural hardware that is stylishly designed yet exceptionally functional. While a majority of the product is installed in residences, OMNIA's product can also be found in commercial installations all over the world. These include luxury apartments, office buildings, resorts and hotels. Find out more on their website.
Here is an example:
Inox. Inox produces a range of stainless steel architectural hardware products. They are manufactured by a highly skilled workforce using cutting edge technology including the latest CNC and other customized machines at their state of the art plant located on the outskirts of the Indian capital city of New Delhi. Find out more on their website.
Here are some examples:
ABH. Architectural Builders Hardware Mfg. Inc. (ABH) is a manufacturer of Overhead Holders & Stops, Hospital Latches, Electromagnetic Holders, Pivots, Strikes and Rescue Stops, Aluminum Hinges, Stainless Steel Hinges, Coordinators, Flush Bolts, Power Wire Transfers, and Roller Latches. Find out more on their website.
Baldwin Hardware. Baldwin is part of Hardware & Home Improvement (HHI), a major manufacturer and supplier of residential locksets, residential builders' hardware and plumbing with a portfolio of renowned brands, including Kwikset®, Weiser®, Baldwin®, National Hardware®, Pfister™ and EZSET®. Find out more on their website.
Here is an example: