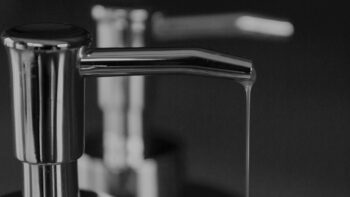 Grasp Should Exceed Reach
In the 2010 ADA Standards for Accessible Design, September 15, 2010 reference to soap (and towel) dispensers is in Advisory 606.1 General, Lavatories and Sinks and references 308 Reach Ranges. The section is located under 606 Lavatories and Sinks.
There are no other references to "soap" or "soap dispensers" in the standards except for referencing the "reach" by different age groups and an unobstructed forward high reach of 48" and a low reach of 15" mentioned in Advisory 308.1 General. It states an obstructed high reach should be 34" maximum and a depth of 24".
Remember that "Advisory Notes" are provided for informational purposes only and are not necessarily mandatory. Advisory notes try to clarify the meaning of a requirement or provide recommendations for good practice.
The ADA standard tells us "reach" is the most important factor in installing soap dispensers to be used by children and people in wheelchairs. The consideration of placement of a soap dispenser is the designers or contractors choice based on reach. The standard does not currently specify manual or automatic dispensing.
Generally, soap dispensers will fall under the specification category of "Automatic Liquid Soap Dispenser" or "Automatic Soap Dispenser." Sometimes the wording might be like:
"Automatic dispenser with infrared sensor to detect presence of hands; battery powered, designed for dispensing soap in liquid or lotion form."
"Basis of Design Product: subject to compliance with requirement."
"Soap Dispenser: Automatic Counter-Mounted Foam Soap Dispenser shall dispense controlled amount (0.8m) of Soap."
There appears to be no restriction for the wall mounted manual dispensers except for "reach" and height.
Recently, ConstructConnect™ listed over 4,292 projects of soap dispenser placements based on "reach" for ADA restrooms. Only a few mentioned a manufacturer. The field is wide open to position for someone to position their dispensers in this uncontested market area.
Types of Soap Dispensers
Soap dispensers come in manual or sensor-operated and dispense lotion or antimicrobial soap or disinfectant or foam and are manufactured by roughly 25 companies. Soap refills can come in cartridges or bags. Soap dispensers are normally wall mounted but can be deck mounted singly or in a combination of faucet and soap dispenser.
Manufacturers
There are numerous manufacturers of soap dispensers for ADA restrooms and standard restrooms.
Bradley Corporation. Bradley is one of the most complete and advanced manufacturers of commercial washrooms and comprehensive solutions for emergency, safety, and industrial applications. You will find 32 ADA compliant soap dispensers on their site including the new Verge ADA soap dispenser line on their website.
Here is an example:
Bradley BradEX Diplomat automatic soap dispenser. This soap dispenser features a heavy gauge stainless steel tank body with exposed surfaces in architectural satin finish, designed with unique dual-curve geometry. The container dispenses 24 ounces liquid soap, is surface-Mounted and compliant to ADA standards.
Bobrick Washroom Equipment, Inc. Bobrick is a recognized name in well-designed, value-oriented restroom accessories and toilet partitions. You will find over 30 soap dispensers when you search for "soap dispensers" on their website including 9 of their designer models including B-852 designer series on their website.
Here are some examples:
Bobrick 4112 ConturaSeries Surface-Mounted Soap Dispenser, 40oz, Stainless Steel Satin. Corrosion-resistant valve dispenses commercially marketed all-purpose hand and liquid soaps, lotions, and E4-Rated antibacterial soaps. Concealed wall fastening; hinged filler top requires special key to open. Valve operates with less than 5 lb. of force (22.2 N), meeting ADA standards.
Bobrick Wall Mount Liquid Soap Dispenser. This surface-mounted soap dispenser features a vandal-resistant lid with a keyless locking device that pivots up for easy top filling. The large-capacity, translucent container allows you to quickly glance at the current soap level to prevent unexpected depletion. Its removable design ensures fast, simple cleanings to maintain hygienic use. Valve requires less than 5 lb. of force without tight grasping, pinching, or twisting your wrist for effortless operation in accordance with ADA. Soap dispenser is designed for use with all-purpose liquid soaps (sold separately).
Stern Engineering. Stern offers a comprehensive range of products with state-of-the-art electronics for the complete automated bathroom experience and has worldwide network of local agents and distributors in over 80 countries. Stern is committed to green building and to providing smart water solutions that maximize water efficiency and achieve LEED points. There are 12 models including the Behind the Mirror soap dispenser on their website.
Rubbermaid/Technical Concepts. For 50 years, Rubbermaid Commercial Products has pioneered world-class product solutions that meet the challenging demands of commercial facilities while outperforming and outlasting the competition. Rubbermaid is proud to be the global leader of the commercial cleaning industry, delivering exceptional products.  Technical Concepts was acquired and rebranded by Rubbermaid and has steadily grown to become one of the largest distributors of automatic commercial restroom, water conservation, and plumbing products in the United States. Technical Concepts has a wide variety of electronic soap dispensers in various styles and finishes.
Here are some examples:
Rubbermaid Commercial AutoFoam Dispenser.  Luxurious foam delights your customers in an attractive touch-free, economical dispenser. Biodegradable, Green Seal soaps make this the preferred environmental choice. Contemporary "clean look" dispenser enhances any washroom décor. Helps earn LEED credits, ADA compliant in force and one-handed operation. Disposable refill keeps soap fresh and germ-free.
Rubbermaid Commercial ADA- Compliant OneShot Touch-Free Automatic Foam Soap Dispenser.  This dispenser reduces or eliminates cross-contamination and helps reduce the spread of germs by dispensing a concentrated soap formula in controlled doses without contact. This closed dispensing system features world-class reliability with a battery life of up to two years or 90,000 cycles, refill, and battery-life indicators to reduce downtime, and programmable options to eliminate waste.
San Jamar. San Jamar's, washroom products come directly from insights gained from their customers and respond with ground-breaking new products that make operations smarter, safer, and more sanitary. It has made San Jamar a leader in products like Ocean® soap and hand sanitizer dispensers for over 20 years. San Jamar is part of the CFS Brands family.
Here are some examples:
San Jamar S890TBL Oceans Soap Dispenser. The San Jamar SF900TBK rely manual foam soap dispenser is designed for easy maintenance. It has a capacity of 825Ml and dispenses 0.6Ml portions. The unit mounts easily with adhesive or screws and accepts bulk foam soap.
San Jamar SF1300TBK SF1300 Rely Manual Foam Soap Dispenser. The San Jamar SF1300TBK rely manual foam soap dispenser is designed for easy maintenance. It has a capacity of 1300Ml and dispenses 0.6Ml portions. The unit mounts easily with adhesive or screws and accepts bulk foam soap.
Delta Products. The Delta® brand is more than just a faucet. It is a WaterSense® partner of the U.S. Environmental Protection Agency, Delta is a global organization offering kitchen and bath faucets, showerheads, tub and shower systems, toilets, soap dispensers and related accessories. Delta has a selection of 84 soap dispensers available in a wide variety of finishes and ADA compliance.
Here is an example:
Alpine Industries. Alpine Industries, headquartered in Irvington, NJ, is a manufacturer of innovative, solution-based products for commercial and institutional markets worldwide. The Alpine Industries brand is known for its high-quality products, specifically in the foodservice and janitorial sectors of the industry. Alpine Industries has a selection of soap dispensers in manual and automatic listed as ADA including soap and hand sanitizer combinations.
Here are some examples:
Alpine Industries Automatic Soap Dispenser – Touchless Hand Sanitizer Liquid/Gel Dispenser. Working with most Liquid/Gel Hand Sanitizer or Liquid Soap, this Alpine Industries Automatic Hands-Free Liquid/Gel Hand Sanitizer/Soap Dispenser is ideal for use in offices, schools, warehouses, food service facilities, manufacturing, hospitals and much more. It is also ADA compliant in force and one-handed operation, making it accessible to people with disabilities. This product is made to provide long-lasting strength and use, ideal for high-traffic areas.
Alpine Industries Automatic Soap Dispenser – Touchless Foam Hand Sanitizer Soap Dispenser with Adjustable Floor Stand. Working with most Foam Hand Sanitizer or Foam Soap, this Alpine Industries Automatic Hands-Free Foam Hand Sanitizer/Soap Dispenser with Floor Stand is ideal for use in offices, schools, warehouses, food service facilities, manufacturing, hospitals and much more. The stand elevates the 1200 mL dispenser to the perfect height for your guests, so they can easily sanitize their hands on-the-go. It is also ADA compliant in force and one-handed operation, making it accessible to people with disabilities.
Alpine Industries Manual Stainless Steel Liquid Soap Dispenser, Horizontal – 40oz Capacity. The Alpine Manual Stainless Steel Liquid Soap Dispenser combines durability and function which is ideal for any commercial or public setting. It is expertly crafted using high-quality, stainless steel construction to provide long-term durability and use for many years to come. This material is both corrosion- and vandal-resistant, allowing it to stand up against harsh chemicals and multiple users without it rusting or eroding away.
Frost Products. Frost Products Ltd. has been manufacturing and distributing a full line of quality Washroom Accessories for over 50 years. Their products are typically specified for architectural, new construction and janitorial markets. Frost has a selection of soap dispensers, of which, two are listed as ADA compliant.
Better Living Products. Better Living concentrates on utilizing noble materials, such as stainless steel, aluminum, chrome and nickel to deliver the absolute best quality to their customers with thoughtful shower and bath products including a large selection of soap dispensers that blend seamlessly into contemporary home décor.
Here are some examples:
Simplehuman. Simplehuman designs tools that help people become more efficient at home. Through innovation and new technologies, they find ways to streamline simple task for efficient living. Simplehuman has a selection of liquid and foam soap dispensers.
Here are some examples:
simplehuman 8 oz. Touch-Free Sensor Liquid Soap Pump Dispenser with Soap Sample. This simplehuman touch-free sensor pump is the most efficient and easy way to wash your hands — no germs or smudges left behind. Perfect for small sinks or countertops, its high-efficiency pump provides fast and accurate soap dispensing in just 0.2 seconds. The silicone valve prevents messy drips and clogs. A wide opening makes refills fast, easy, and mess-free.
simplehuman 9 oz. Touch-Free Rechargeable Sensor Liquid Soap Pump Dispenser. The simplehuman sensor pump is an automatic soap dispenser that is hands-free so it does not leave germs or smudges behind, providing clean and effortless soap dispensing. This soap pump has a clog-proof tubing pump that ensures a precise and consistent soap flow, and a flexible silicone valve opens for a quick, steady flow then snaps shut to prevent messy drips. The soap pump recharges with the included charging puck — one charge lasts up to 3 months. A funnel refill opening makes soap refills fast and easy. And this sensor pump is made from high-grade stainless steel with an IP67 rating, which makes it waterproof, so you can rinse the pump in the sink and keep it looking like new.