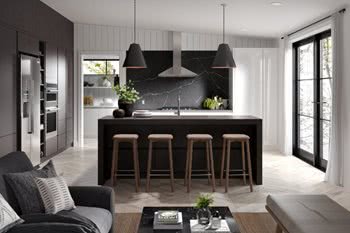 How to Create a Stylish, Yet Compact Apartment Kitchen
Darren Watts, Design Director at Wren Kitchens, offers his top tips on how to create an amazing multi-functional kitchen in an apartment.
A key feature of many apartments is a multi-functional kitchen and living space. Although a separate kitchen may suit some people's lifestyles, a place where you can cook, eat, and relax can be the preferable type of space for people living with friends, couples, and people living on their own.
But, not all compact kitchens are made equal – it's important to get the balance of space and style so you have enough room for everything while keeping your apartment looking great.
Design Director at Wren Kitchens, Darren Watts, has offered his top tips on how to plan the perfect compact kitchen that will work for everyone.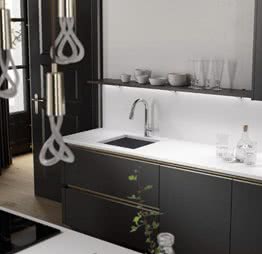 Cabinets
Utilizing your cabinet space is essential when making the most out of a small space. When planning your compact kitchen, take your cabinets to ceiling height to maximize the amount of storage you can use, and group appliances together in one run of cabinets. Handle-less cabinets offer a sleek and stylish look and will help your space look modern for years to come.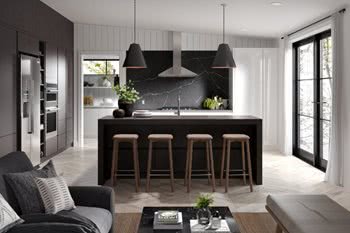 Layout
With a kitchen-dining-living room combination, the key is to create a harmonious space with defined areas. An island or peninsula makes a great divider as well as a workspace and dining area.
Countertops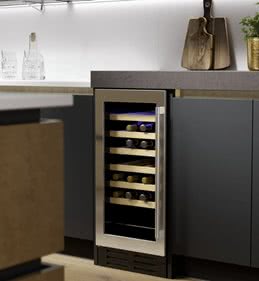 Playing around with countertop depths makes a real design statement. A thick luxury slab laminate looks great used on an island top and sides. Team with a slimline countertop, and add drama with a marble-style backsplash that's unique.
Colors
Open a world of possibilities with patterned and textured finishes inspired by nature.
Contrast your island color and go for matching metal profiles and countertops to give the illusion of more space.
And there's no need to sick to one cabinet color. Two or even three colors can work together wonderfully.
Appliances and Accessories
Make every item count – useful, beautiful or both. If you can't hide washers away in a laundry room, consider an integrated one. Coordinated stainless steel and chrome faucets, sinks, refrigerators, ovens and extractors reflect light and work well together.
For more information on how to create a beautiful compact kitchen, visit: https://www.wrenkitchens.com/us/blog/how-to-create-a-compact-apartment-kitchen.
About Wren Kitchens
Wren Kitchens is Europe's number one kitchen retail specialist and has supplied kitchens worth more than $1.31 bn (£1 bn) in the last two years alone. Launched in 2009, Wren Kitchens is a family business, and it manufactures its UK kitchens in its three manufacturing and assembling facilities. It has 101 showrooms and delivers fully built cabinets, with doors, drawers and wire work pre-installed and delivered by Wren's award-winning fleet of trucks. In 2020, for the first time the business expanded internationally and opened its first showroom in Milford, Connecticut, which was crowned America's biggest kitchen showroom at 31,464 sq. ft.