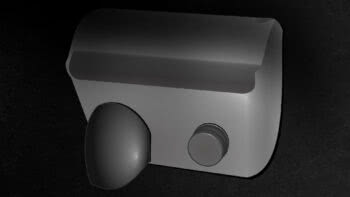 Integrating Hand Dryers into ADA Restrooms
Hand drying is part of every restroom. While designing your ADA restroom, there are basically three options on how to handle hand drying: paper towels, warm-air dryer or jet dryer (or a mix of each).
If you are including hand dyers in your ADA restroom, the 2010 ADA Standards for Accessible Design does not specifically mention hand dryers. However, the reach ranges and mounting heights criteria must be met. First, the hand dryer must be accessible for both right-handed and left-handed users. This allows for various wheelchair approaches in the restroom.
The reach ranges are specified in 308: 308.1 Unobstructed or 308.3.2 Obstructed High Reach, depending on where it will be placed. If unobstructed, then the side reach can be 15" to 18" above the floor. If obstructed and the depth is 10", then the side reach can be 15" to 48". However, if the depth exceeds 10", but no more than 24", then the side reach range is 15" to 46".
If there are any operable parts, users should be able to operate them with no more than 5 lbs. of force and not require tight grasping, pinching, or twisting of the wrist. Plus, the entire unit cannot extend out more than 4".
Keep in mind that these dimensions are different for children's restrooms. They are:
Children's Reach Ranges
Forward or Side Reach
Ages 3 and 4
Ages 5 through 8
Ages 9 through 12
High (maximum)
36"
40"
44"
Low (minimum)
20"
18"
16"
Often when specifying hand dryers for ADA restrooms, the wording is general such as "provide ADA compliant hand dryer." Surprisingly, hand dryers are most often specified under the Specialties Division. Sometimes the specifications list a specific manufacturer or manufacturer list. At this writing, there were 535 projects in ConstructConnect within the Specialty Division that specified ADA toilets for this year. Since most do not contain a specific manufacturer, the field is wide open for product manufacturers to become a basis of design or position their hand dryer as THE ones for ADA restrooms.
Choosing the hand dryer can play a large role in encouraging hand hygiene. It's always important to look at the location of the hand dryer and make sure a wheelchair user can fit through the area and also have room to extend arms under the dryer.
Manufacturers
There are many manufacturers of hand dryers for ADA restrooms. Here are a few to consider.
Excel Dryer. Excel Dryer has been manufacturing American-made hand dryers for more than 50 years. The family-owned and -operated company revolutionized the industry with the invention of the patented XLERATOR® Hand Dryer that created the high-speed, energy-efficient hand dryer category and set a new standard for performance, reliability, and customer satisfaction. A selection of Excel Dryer products can be found on their website.
Here are some examples:
World Dryer. Since 1951, World Dryer, based in Berkeley, IL, is on a never-ending mission to build solutions upon customers' challenges and insights without compromising the pillars of safety, sanitation, performance, and compliance. World Dryer is now part of the Zurn product portfolio.
Here are some examples:
American Specialties Inc. (ASI). The ASI Group designs, engineers, and manufactures fully integrated washroom accessories, partitions, lockers, and visual display products from one source. This includes hand dryers.
Here are some examples:
Bobrick. Bobrick is recognized as an industry leader in well-designed, value-oriented restroom accessories and toilet partitions. Some of the world's most renowned companies and institutions rely on Bobrick solutions to reinforce their brands, reduce long-term operating costs and position their organizations for a successful future. You will find a section dedicated to hand dryers on their website.
Here are some examples:
Dyson. Dyson Ltd is a British technology company established in the United Kingdom by Sir James Dyson in 1991. It designs and manufactures household appliances such as vacuum cleaners, air purifiers, hand dryers, bladeless fans, heaters, hair dryers, and lights. Their hand dryers can be found on their website.
Here are some examples:
Mitsubishi. With  nearly  100  years  of  experience  in  providing  reliable,  high-quality  products,  Mitsubishi  Electric  Corp. is a recognized world leader in the manufacture, marketing and sales of electrical and electronic equipment used in information processing and communications, space development and satellite communications, consumer electronics, industrial technology, energy, transportation and building equipment. Find out more about Mitsubishi hand dryers on their website.
Here are some examples:
Blue Dry. Blue Dry offers a range of Hand Dryers to suit any washroom application. Find out more on their website.
Saniflow. Saniflow Corp., a division of Mediclinics S.A., offers a wide range of products for commercial washrooms in North America since 2003.  Saniflow offer fast, eco-friendly, and versatile hand dryer models, offering the perfect solution to any washroom or commercial restroom application. Find out more on their website.
Here are some examples:
Sloan Valve. Sloan is a leading manufacturer of commercial plumbing systems and has been in operation since 1906. Headquartered in Franklin Park, Illinois, the company is at the forefront of the green building movement and provides sustainable restroom solutions by manufacturing water-efficient products such as flush valves, electronic faucets, and soap dispensing systems, sink systems and vitreous china fixtures for commercial, industrial and institutional markets worldwide. Find out more about Sloan wall-mounted hand dryers on their website.
Here are some examples: