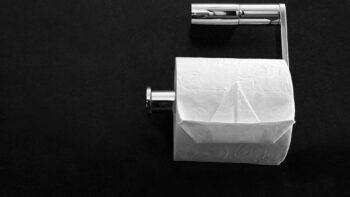 It's in the Details: In-Stall Dispensers
It is important to consider the smaller details. The placement of in-stall dispensers is a small detail, but an essential part in adhering properly to ADA restroom guidelines.
When it comes to in-stall toilet paper dispensers, they are mentioned in section 604.9.6 and 309.4 Dispensers of the 2010 ADA Standards for Accessible Design. They are to be placed 7" to 9" in front of the toilet and be 14" to 19" above the floor. Keep in mind that there needs to be a clearance of at least 1½" below the grab bar.
Access to the grab bars is an important feature to take into consideration when installing a toilet paper dispenser. Section 309.4 gives note that if the dispenser is installed above the grab bar, the outlet of the dispenser must be 48" from the finished floor and the top of the gripping surface. The grab bar must be between 33" and 36" above the floor. This allows enough space for an arm or hand to be placed on the grab bar.
If installing a seat cover dispenser, then follow the reach guidelines in section 308.1 Unobstructed or 308.3.2 Obstructed High Reach, depending on where it will be placed. If unobstructed, then the side reach can be 15" to 18" above the floor. If obstructed (by the toilet) and the depth is 10", then the side reach can be 15" to 48". However, if the depth exceeds 10", but no more than 24", then the side reach range is 15" to 46".
When it comes to choosing a dispenser, it's really the designer's preference. Single roll or double roll. Realistically, the 15" minimum is often too low, especially when using a covered double roll dispenser. Think how low you have to reach. They are most often installed so low that one must nearly get on the floor to access the toilet paper.
Keep in mind that these dimensions are different for children's restrooms. They are:
Advisory Specifications for Toilets Serving Children Ages 3 through 12
Ages 3 and 4
Ages 5 through 8
Ages 9 through 12
Grab Bar Height
18" to 20"
20" to 25"
25" to 27"
Dispenser Height
14"
14" to 17"
17" to 19"
Children's Reach Ranges
Forward or Side Reach
Ages 3 and 4
Ages 5 through 8
Ages 9 through 12
High (maximum)
36"
40"
44"
Low (minimum)
20"
18"
16"
It is vital to note that all parts of the toilet paper dispenser and seat cover dispenser must be compliant with section 304.9 of the 2010 ADA Standards. Make sure that when purchasing a dispenser, no more than 5 lbs. are needed to release the toilet paper or cover and no parts of the mechanism are difficult to twist or grab by a user.
Manufacturers
There are many manufacturers of toilet paper and toilet seat cover dispensers for ADA restrooms. Here are a few Classic Series to consider.
Bobrick. Bobrick is recognized as an industry leader in well-designed, value-oriented restroom accessories and toilet partitions. Some of the world's most renowned companies and institutions rely on Bobrick solutions to reinforce their brands, reduce long-term operating costs and position their organizations for a successful future. You will find a  section of close to 64 dedicated to toilet paper dispensers as well as toilet seat cover dispensers on their website, here a some popular examples:
Bradley Corporation. Bradley is one of the most complete and advanced manufacturers for commercial   washrooms, and comprehensive solutions for emergency safety and industrial applications. Now in the fifth generation of the Mullett family, their continued commitment includes treating customers and employees like family. You will find 101 results when you search for "paper dispenser" on their website and six results for "seat cover." Here are some stainless steel examples:
American Specialties Inc. (ASI). The ASI Group designs, engineers, and manufactures fully integrated washroom accessories, partitions, lockers, and visual display products from one source. This includes toilet paper and seat dispensers, such as:
Kimberly-Clark Professional. Kimberly-Clark Professional partners with businesses to create Exceptional Workplaces, helping to make them healthier, safer, and more productive. You will find a section dedicated to toilet paper and toilet seat cover dispensers for sale here:
 Georgia-Pacific Pro. Georgia-Pacific was founded in 1927 and has expanded into numerous markets by offering innovative solutions. Georgia-Pacific offers a variety of ADA-compliant dispensers for public restrooms, such as:
San Jamar. Since 1984, San Jamar has worked to make restroom products, including dispensers, smarter, safer, and more sanitary. San Jamar offers a variety of dispensers that meet ADA requirements for accessibility and ease of use. and space saving design:
Oasis Creations. Based in Los  Angeles, Oasis Creations desi ns and manufactures a variety of versatile products that are ideal for the home and office. Oasis Creations offers a wide selection and variety of dispensers, including ADA-compliant dispensers for public restrooms.
Tork USA. Tork is the leading global brand in workplace hygiene, with a wide variety of products designed to meet the needs of restrooms, kitchens, offices, and industrial spaces. Tork USA carries a wide range of ADA-compliant dispensers.