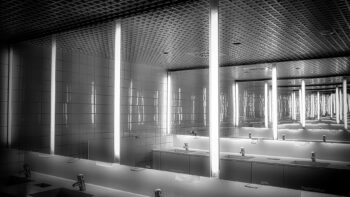 Mirror, Mirror On the Wall
The word "mirror" is used 10 times in the 2010 ADA Standards for Accessible Design, and readers are led to 603.3 section, Mirrors. That guidance simply states that mirrors located above lavatories or countertops should be installed with the bottom edge of the reflecting surface a maximum of 40" above the finished floor or ground. Now, if the mirror(s) is not located above lavatories or countertops, it should be installed with the bottom edge of the reflecting surface a maximum of 35" above the finished floor or ground.
That would be it for guidance on mirrors.
Yet, section 213.5 states: "Where mirrors are provided, at least one shall comply with 603.3." In other words, you don't need a mirror. But what' a restroom without one, right?
The standard has only ONE Advisory for mirrors. Remember that "Advisory notes" are provided for informational purposes only and are not mandatory. These notes have been added or revised based on comments or revisions to text. Advisory notes try to clarify the meaning of a requirement or provide recommendations for good practice.
In the case of mirrors, the advisory note tells us that a single full-length mirror can accommodate a greater number of people, including children. If you specify a single full-length one, in order for it to be usable by people who are ambulatory and people who use wheelchairs, the standard states that the top edge of mirror should be at a minimum, 74" from the floor or ground.
So the entire consideration for using mirrors in an ADA restroom is really the designer's choice. The requirements have to deal with how far from the floor or ground that the mirror should measure. Remember, it's all about how far above the ground you are going.
Generally, mirrors will fall under the "Toilet, Bath and Laundry Accessories" category of a specification. They become "standardized" in the thinking and specification, so generally, the installer gets the final decision. Sometimes the wording might be like: "Provide Type I transparent flat type, Class 1-clear glass for mirrors. Glazing Quality q1 1/4-inch-thick conforming to ASTM C1036. Etc." Or, "Annealed float glass, ASTM C1036 Type I, Class 1, Quality Q2, with silvering, protective and physical characteristics complying with ASTM C1503."
Sometimes they list a specific manufacturer. At this writing, there were over 5,900 projects with mirrors and ADA restrooms. Only a handful contain a specific manufacturer, meaning that the field is wide open for someone to come in with a basis of design or position their mirrors as THE ones for ADA restrooms.
Types of Mirrors
Most commercial restroom mirrors (including for ADA) can be ordered in various sizes and even custom sizes to fit an ADA restroom requirements. As mentioned, installation of an ADA mirror in an ADA restroom application is really a measurement decision: from the bottom of the reflective part of the mirror and not the mirror frame when determining mounting height.
There are several "kinds" of mirrors, ranging from the Multi-Purpose, which is comprised for "more than a mirror" i.e., shelf and paper towel dispenser to a Tilt Mirror, which tilt slightly downward from the wall to accommodate ambulatory and people who use wheelchairs. Local building codes will also be an excellent reference.
Manufacturers
Although there are many manufacturers of mirrors for ADA restrooms, here are a few to consider.
Bobrick. Bobrick is recognized as an industry leader in well-designed, value-oriented restroom accessories and toilet partitions. Some of the world's most renowned companies and institutions rely on Bobrick solutions to reinforce their brand, reduce long-term operating costs and position their organizations for a successful future. You will find 96 results when you search for "mirror" on their website, and the B-293 Series Fixed-Position Tilt Mirror is one of them.
Bradley Corporation. Bradley is one of the most complete and advanced manufacturers for commercial washrooms, and comprehensive solutions for emergency safety and industrial applications. Now in the fifth generation of the Mullett family their continued commitment includes treating customers and employees like family. You will find 14 results when you search for "mirror" on their website, including the fixed Tilt mirror w/shelf, the model 7405.
American Specialties Inc. (ASI). The ASI Group designs, engineers, and manufactures fully integrated washroom accessories, partitions, lockers, and visual display products from one source. When you type in "mirror" on their website, you receive 25 matches, including the 0600-T SERIES Adjustable Tilt Inter-Lok Frame Plate Glass mirror.
Brey-Krause. Brey-Krause manufactures a comprehensive line of quality commercial and industrial washroom accessories. They are a family owned and operated company and all of our products are made in the USA. All products are manufactured in compliance with American Disabilities Act- (ADA) and ANSI requirements. When you visit their website, you get one page of results when you type in mirror, but there are over 35 results on that page, including the ADA fixed Tilt Mirror T-1218-33-SS.
Meek Mirrors. Since 1961, Meek Mirrors has specialized in high quality handcrafted mirrors, including ADA-compliant mirrors. Based in Arkansas, Meek Mirrors has been used by 6,000 dealers in over two million locations.
Lenoir Mirror. Based in Western North Carolina, Lenoir Mirror Company has produced beautiful and functional glass and mirror products since 1913. Produced in a state-of the-art facility and sold throughout the United States, Lenoir Mirrors meet a wide range of needs for many settings, including ADA-compliant restrooms. 
Dillmeier Glass. Dillmeier Glass is a leader in the glass industry with a wide variety of innovative solutions. Dillmeier Glass' investment in both people and technology has resulted in glass products of exceptional quality, with many options to choose from when designing ADA restrooms.
Better Living Products. Since 1991, Better Living Products has focused on innovation and convenience to drive their creation of the perfect bathroom accessories. Better Living's products are designed to be accessible, environmentally friendly and to reduce waste.
Simplehuman. Simplehuman's objective is to make day-to-day tasks – such as hand washing – more carefree and accessible. Relying on innovation and commitment to new technology, simplehuman has streamlined the use of bathroom essentials, making the task fun and carefree.
Advance Tabco. Since 1929, Advance Tabco has been an industry leading manufacturer of a variety of commercial and industrial products, including products for supermarkets, offices, and healthcare facilities. Advance Tabco offers many ADA-compliant solutions.