Smart Appliances at CES, But Are They Wise?
Electronics continue their march into the kitchen and laundry room at the 2013 Consumer Electronics Show in Las Vegas. There are undoubtedly valuable benefits of having smart capabilities integrated into our appliances, but beware: There's just no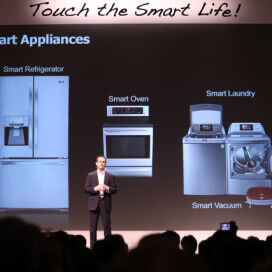 way to completely dummy-proof the kitchen from a clueless home chef or the laundry from a careless family member who throws pants in the washer with pockets loaded down with who knows what.
The new washer and dryer from LG self-diagnoses its problems. Then, it can inform the homeowner remotely through their smartphone when a load has gone awry and why it's not too happy with whatever is going on.
The smart oven also self-diagnoses, plus it has downloadable recipes and can help the happy homeowner keep track of their #1 New Year's Resolution: the dreaded diet.
The oven cannot stop you, however, from baking a scrumptious triple-decker chocolate volcano cake and then stuffing your face with it. It's still up to you, sadly, to keep calories in check.
LG claims that its HOM-BOT Square vacuum offers a significant upgrade in cleaning performance, thanks to the new Corner Master technology. It's good that a manufacturer finally acknowledges that most of us live in square rooms, not futuristic circular enclosures with no right angles. 
Samsung's 30″ induction range with Flex CookZone™ (above left) has a large cooking area with the flexibility to suit any pan configuration. It also has Boil Alert, which detects vibration and automatically reduces heat to a preset level to prevent boil-overs.
No word yet, though, on whether Boil Alert is in cahoots with a self-cleaning option that doesn't like to see spaghetti sauce or soup spoiling its lovely surface area.
Magic Life Guard Water Purifier from Moneual (above right) is a smart water filter that not only alerts users of filter changes needed, but also automatically alerts a service center. It also detects gas leaks or smoke and fire within the home, providing full-home protection.
Yes, fire, carbon monoxide and other gas leaks are very real dangers in any home. But would you trust a water filter to provide full-home protection? We'll stick with our smoke and CO detectors, thanks.