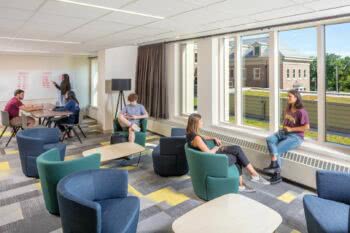 Sustainable Construction Materials Promote Healthy Residence Halls
This blog was contributed by KWK Architects.
In 1984, the World Health Organization suggested that up to 30% of new and renovated buildings had excessive complaints related to indoor air quality, which was directly related to Sick Building Syndrome. According to the EPA, Sick Building Syndrome describes situations in which building occupants experience acute health and comfort effects that appear to be linked to time spent in a building, but no specific illness or cause can be identified.
"While we still see cases of Sick Building Syndrome today, we have certainly come a long way from the less healthy buildings of the 1980s. Today, designers are focused more than ever on specifying and constructing healthy buildings, including residence halls," said KWK Architects Principal Javier Esteban. "Just to put into perspective the importance of this issue, according to the EPA, the average American spends up to 87% of their time indoors, inside buildings. We live and breathe in man-made spaces, with a certain amount of filtered fresh air surrounded by products with high levels of chemicals."
So, what is a healthy building, or more specifically, what constitutes a healthy residence hall?
There are many definitions, but in general, a healthy residence hall is architecturally designed to promote physical activity and healthy habits, while using healthy materials and building systems to provide a healthy environment.
Promoting Student Physical Activity
Buildings can promote student physical activity through spaces that encourage exercise, such as a prominently located main staircase. By creating a wide and welcoming staircase with lots of natural light where students can also hang out (commonly called the community stair), students will often use it for at least the first three floors. Another strategy is locating elevators in a secondary place behind the staircase to encourage students to use the stairs. Special consideration must be taken to not segregate students who are in wheelchairs or visually impaired.
The Active Design Guidelines published by the Department of Design and Construction, Health and Mental Hygiene, Transportation and City Planning of the City of New York, includes multiple strategies that can be used for site planning, as well as the exterior and interior of a building to promote exercise. This is especially important in the context of a "mini city" such as a university campus where means of transportation include bicycles, skateboards and electric scooters, in addition to the traditional campus bus. The opportunities to create an active campus are infinite, but it requires the common vision of all stakeholders.
Integrated building signage can be used not only as a way-finding tool, but also as motivation and information about healthy habits. For example, signage can inform students how many calories they burn by climbing one flight of stairs while small signs can provide mile markers on campus walks.
This interrelates with promoting healthy habits. Research shows that creating additional vistas to the landscape and active spaces motivates people to move.
Color and lighting are also very important in setting the "mood" of the building. Lively colors induce movement, together with living walls thriving with vegetation; all are part of the concept of Biophilia – an innate tendency in humans to seek connections with nature and other forms of life. The intent with these initiatives is not necessarily for students to start exercising in the building, but rather to make the users more active in their daily routines by using what behavioral economists call "nudging," or small pushes toward changing behavior.
Integral to the built environment is furniture selection. It is very important in residence halls to have variation in the furniture, tables and chairs, soft seating, etc. This also includes active furniture spread out in small meeting rooms, study rooms and lounges, all to create a more dynamic and active residence hall.
Sometimes the message is a lot more direct. For example, at North Residence Hall at Indiana University – Purdue University Indianapolis (IUPUI), KWK Architects designed a very open fitness room integrated with the floor that not only blends with the social functions of that community, but also takes advantage of expansive views of downtown Indianapolis. The design and location of the room also allows other floor residents to go to the top floor and get exercise in a relatively private manner.
Specifying Healthy Materials
The use of healthy materials is very important in the construction of any residence hall, and it starts from day one understanding which materials will be selected for the design. Consumers are used to seeing ingredient labels on the foods they purchase and eat every day, so why not start doing the same things for a building that students will spend most of their time in on campus?
There are three major systems in place that help create an inventory and screening of the major components of building materials that students are surrounded by every day – Health Product Declaration (HPD), Cradle to Cradle Products and Red List Products. All three systems are used to identify and ensure compliance with LEED or Living Building Challenge requirements and help designers select materials that contain minimum amounts of (or are void of) harmful materials. This requires conversations with construction product manufacturers, as it happened several years ago with the push for more recycled content or the substantial reduction in VOC (Volatile Organic Compounds) in paints, glues and sealants. Of special importance is the LEED V4 requirements which has encouraged manufacturers to publish HPD's on many construction products.
More and more materials used in building interiors today are being made from sustainable, recycled materials such as countertops made from recycled plastic waste and carpet nylon made from recycled fishing nets harvested in the Philippines and Central Africa.
Even the mechanical and plumbing systems can be designed to ensure clean fresh air, reduction of pollution and adequate air filtering, not only at the building level but also at the source of the chilled water or steam in cases of power plants and campus loops very common in the context of the university campus.
Including filtered drinking water fountains in strategic locations instead of soda vending machines can help promote an overall healthier environment for students. Traditional water fountains are also being replaced by water bottle refill stations. Additionally, vending machines can sell healthy snacks and beverages.
One of the established paths to achieving a healthy building is to incorporate a WELL building standard (Silver, Gold or Platinum) composed of seven concepts: air, water, nourishment, light, fitness, comfort and mind; with the goal of advancing health and well-being in buildings.
"There is a clear synergy between active and sustainable buildings. They both encourage and promote a healthy environment outside and inside buildings," said Esteban.
About KWK Architects
Founded in 2013 by five architects with a combined 150 years of higher education knowledge and experience, KWK Architects partners with colleges and universities across the United States to create innovative and inspiring places that enhance campus life. Areas of expertise include student housing and dining, and academic and science/technology spaces. KWK Architects has completed more than $1 billion in construction-valued projects since its founding and currently employs a growing staff of 15 at its headquarters in St. Louis, MO.