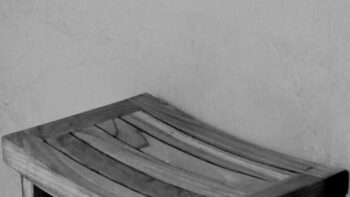 Take an (Accessible) Seat
Access to seating in the shower is critical for many people with limited mobility and can make the showering experience much more comfortable and stress-free. The 2010 Americans with Disabilities Act (ADA) Standards for Accessible Design details the requirements that designers must meet in order to make bathtub and shower seats ADA-compliant in Standard 610. These standards include:
Bathtub Seats. The top of bathtub seats must be 17" to 19" above the finished floor. The depth of removable in-tub seats should be 15" to 16", and the seat should be capable of secure placement. Permanent seats at head end of bathtub should be 15" deep minimum and should extend from the back wall to beyond outer edge of the bathtub.
Shower Compartment Seats. Seats should be folding-type, installed on the side wall adjacent to the controls, and should extend from back wall to a point 3" from the shower entry. For transfer type showers, make sure the top of the seat is 17" to 19" above the finished floor.
Rectangular Seats. Make sure the rear edge of a rectangular seat is placed 2 ½" maximum and the front edge 15" minimum and 16" maximum from the seat wall. The side edge of the seat should be 1 ½" maximum from the adjacent wall.
L-Shaped Seats. The rear edge of an L-shaped seat should be 2 ½" maximum and the front edge 15" minimum and 16" maximum from the seat wall. The rear edge of the "L" portion of the seat should be 1 ½" maximum from the wall and the front edge should be 14" minimum and 15" maximum from the wall. The end of the "l" needs to be 22" minimum and 43" maximum from the main seat wall.
Strength. The seat should be able to hold at least 250 lbs. at any point, including on the fastener, mounting device, and supporting structure.
Often when specifying shower seats for ADA restrooms, the wording is general such as "provide ADA compliant shower seat." Surprisingly, they are most often specified under the Specialties Division. Sometimes the specifications list a specific manufacturer or manufacturer list. At this writing, there were 272 projects in ConstructConnect within the Specialty Division that specified ADA shower seats for this year. Since most do not contain a specific manufacturer, the field is wide open for product manufacturers to become a basis of design or position their shower seat as THE ones for ADA restrooms.
Manufacturers
Now that you are aware of some of the requirements for ADA-compliant bathtub and shower seats, here are some manufacturers that make dependable seats for ADA bathrooms:
American Specialties, Inc. ASI Group designs, engineers and manufactures fully integrated washroom accessories, partitions, lockers, and visual display products from one source. See their full selection of ADA shower and bath seats, including the 8207 Folding Shower Seat on their website.
Arcat. Arcat is the complete source for finding, selecting, detailing, and specifying building products. See Arcat's full collection of ADA-compliant seats, including the SH-414-LL Tub Transfer Bench on their website.
A·R·B Teak & Specialties (ARB). ARB is a premier manufacturer and distributor of luxury teak products. They specialize in custom-made furnishings designed to enhance the beauty of indoor and outdoor living spaces. A large selection of slip-resistant bathroom products including ADA foldable, free-standing and customizable shower benches are available on their website.
Bradley Corporation. When it comes to the most complete and advanced commercial washrooms, including comprehensive solutions for emergency safety and industrial applications, Bradley is one of the best in the business. Bradley's experienced customer service staff and informational tools makes it easy to find exactly what you need. See Bradley's ADA-compliant shower seats, including the Folding Phenolic Shower Seat on their website.
Freedom Showers. Freedom Showers is committed to helping customers make informed choices on accessible home products and providing solutions that give people the ability to live independently. See Freedom Showers' website for their full selection of ADA-compliant bath and shower seats, including the ADA Reversible Shower Seat with Legs, Phenolic Solid Teak.
Ponte Giulio. Ponte Giulio, headquartered in Wisconsin, focuses on comfort and safety solutions for bathrooms. They pioneered the use of BioCote's anti-microbial technology to reduce the levels of bacteria, mold and some viruses up to 99.9% on grab bars, shower seats and accessories. Ponte Giulio has hanging shower seats, L-shaped, rectangular, shower seats with legs, bariatric and rectangular and are listed as ADA.
Bobrick. Bobrick is recognized as an industry leader in well-designed, value-oriented restroom accessories. Bobrick offers a variety of folding right-and-left wall mounted shower seats, shower seats with legs and bariatric. Bobrick shower seats, when properly installed, have sufficient strength to support 500 lbs., (227 kg) complying with accessible design guidelines (including ADAAG in the U.S.A.).
Tubular Specialties Manufacturing, Inc. (TSM). TSM is a worldwide supplier and manufacturer of washroom accessories and offers a wide range of products for commercial construction projects including standard shower seats. TSM folding stainless steel shower seats are available with padded, phenolic, or teak. They are designed to meet and exceed ADAAG requirements and meet ADA compliance when installed to their guidelines.
Etac. Etac offers a wide range of solutions for patient transfer and vital solutions needed for everyday life including classic products for bathing and toilets. Etac's track record in functional, innovative and comfortable products includes a large folding shower seat with folding arms.